FOR DEMO WHATSAPP US ON +2348061676089
SEND US A MESSAGE ON FACEBOOK FOR MORE INFO and DEMO
https://facebook.com/websaro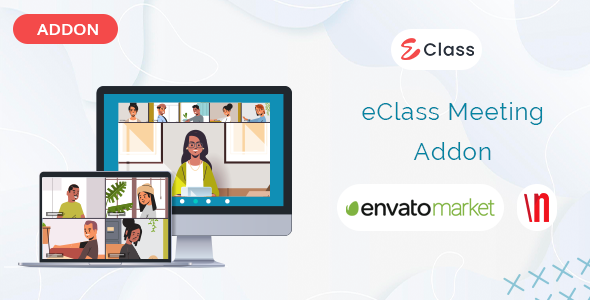 eClass Meeting Addon is the ultimate Zoom integration for eClass online learning platform. With this Addon, instructors and students can easily join and host Zoom meetings directly from their eClass dashboard.
Features:
1. Zoom Integration: eClass Meeting Addon is seamlessly integrated with Zoom, giving instructors and students a hassle-free way to launch and join meetings.
2. One-Click Meeting Launch: Instructors can effortlessly launch Zoom meetings within their courses without having to switch between multiple applications.
3. Automatic Meeting Recording: All Zoom meetings hosted through eClass Meeting Addon are automatically recorded and available to access anytime.
4. Customizable Meeting Options: Instructors can customize meeting options such as mute upon entry, virtual background, and waiting room.
5. Secure and Private: eClass Meeting Addon ensures the security and privacy of all Zoom meetings.
6. Real-Time Attendance Tracking: Instructors can easily track attendance in real-time during Zoom meetings hosted through eClass Meeting Addon.
7. Easy Screen Sharing: Instructors can share their screens during meetings for an enhanced teaching experience.
8. Interactive Whiteboard: Instructors can use an interactive whiteboard to make teaching more interactive and engaging.
9. Student Feedback: Students can provide feedback on Zoom meetings, giving instructors insight into their teaching effectiveness.
10. Seamless User Experience: eClass Meeting Addon provides a seamless user experience with its intuitive interface and clean design.
In conclusion, eClass Meeting Addon is the perfect add-on for online learning, providing a seamless experience between eClass and Zoom. It is a must-have for instructors and students who require a robust and easy-to-use online meeting solution.
[