FOR DEMO WHATSAPP US ON +2348061676089
SEND US A MESSAGE ON FACEBOOK FOR MORE INFO and DEMO
https://facebook.com/websaro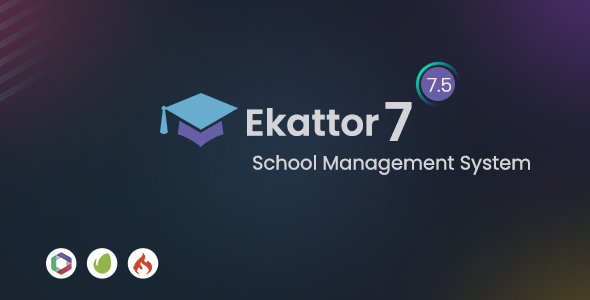 Ekattor School Management System is a powerful web-based application designed and developed with Laravel. It is an ideal choice for schools, colleges, universities and any educational institution to manage their day-to-day administrative tasks effectively.
The system boasts a wide range of features that will streamline your school management processes and reduce the workload of administrative personnel. Some of its remarkable features include:
1. Dashboard: Get a quick view of the overall performance, recent activities and notifications.
2. Student Management: Keep track of student's records, performance, attendance, admission, enrollment etc.
3. Teacher Management: Manage Teachers, Assign Classes, Assign Subject, Schedule and Performance Assessment.
4. Exam & Grades Management: Manage Exams, Grades, Grade Sheets and Generate Report Cards.
5. Employee Management: Manage Staff, Administrators, Librarians, Accountants, Receptionists etc.
6. Inventory Management: Manage Assets, Inventory, Supplies and Expenses with ease.
7. Transportation Management: Manage Routes, Vehicles, Drivers and Track Transport.
8. Library Management: Manage Books, Issues, Returns, Track fines and more.
9. Parent/Student Portal: Provide access to Students and Parents to review Grades, Attendance, Assignments and more.
10. Fee Management: Set the Fee Plan, Collect and Manage the Fees, Generate Invoices and Receipts.
11. Communication System: Easy communication and messaging system between students, teachers, staff and parents.
12. Event Management: Schedule and Manage a wide range of events, calendar and announcements.
These are just a few of the features of the Ekattor School Management System. Try it today and enjoy a refined school management system that provides secure, easy and efficient management of school administrative tasks.
[