FOR DEMO WHATSAPP US ON +2348061676089
SEND US A MESSAGE ON FACEBOOK FOR MORE INFO and DEMO
https://facebook.com/websaro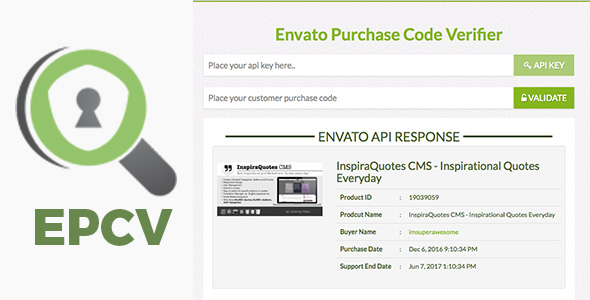 EPCV – Envato Purchase Code Verifier is a must-have tool for anyone selling digital products on Envato Market. With this simple yet powerful script, you can easily verify the authenticity of Envato purchase codes and prevent unauthorized usage of your digital products.
Here are some of the key features of EPCV:
1. User-friendly interface: EPCV comes with a sleek and intuitive interface that makes it easy for your customers to enter their purchase codes and verify them instantly.
2. Real-time verification: No matter how many purchase codes you need to verify, EPCV can handle them all in real-time without any delay.
3. Secure verification process: EPCV uses Envato's official API to verify purchase codes, which means the verification process is both secure and reliable.
4. Customizable error messages: You can customize the error messages that your customers see if their purchase code is invalid, which helps reduce confusion and improve the user experience.
5. Comprehensive documentation: EPCV comes with comprehensive documentation that makes it easy to install and customize the script to meet your specific needs.
Whether you're selling WordPress themes, plugins, or any other digital product on Envato Market, EPCV is a powerful tool that can help you protect your products and prevent unauthorized usage. Get it today and start verifying your purchase codes with ease!
[