FOR DEMO WHATSAPP US ON +2348061676089
SEND US A MESSAGE ON FACEBOOK FOR MORE INFO and DEMO
https://facebook.com/websaro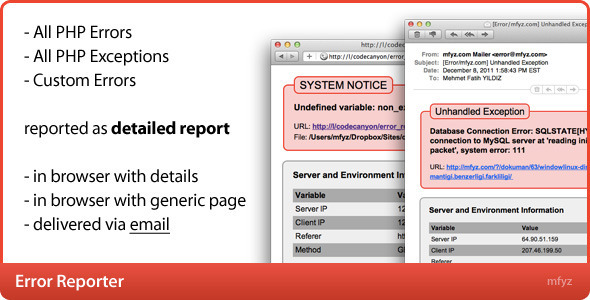 Error Reporter is a powerful and easy-to-use error reporting system designed to help developers quickly identify and diagnose issues in their software applications. With Error Reporter, you can collect detailed error reports from your users, track and prioritize bugs, and collaborate with your team to resolve issues faster than ever before.
Features:
– Easy Installation: Error Reporter can be set up in just a few minutes, and doesn't require any special coding skills or database configurations.
– Comprehensive Error Reports: Our error reporting system collects detailed information about errors, including stack traces, environmental variables, and user inputs so you can quickly identify the root cause of the issue.
– Email Notifications: Receive instant email notifications when an error is reported, so you can take action as soon as possible.
– Customizable Error Pages: Customize your error pages to give your users a better experience, and let them know that their issue has been reported.
– Collaborative Bug Tracking: With our built-in collaboration tools, you can easily communicate with your team to track and resolve bugs quickly.
– Priority Ranking: Assign priority levels to bugs to ensure that critical issues are addressed first.
– Engage With Your Users: With Error Reporter, you can engage with your users by requesting additional information about the error and updating them on the status of their reported issues.
Error Reporter is the perfect tool for any developer who wants to build better software faster. So why wait? Start using Error Reporter today and streamline your error reporting process today!
[