FOR DEMO WHATSAPP US ON +2348061676089
SEND US A MESSAGE ON FACEBOOK FOR MORE INFO and DEMO
https://facebook.com/websaro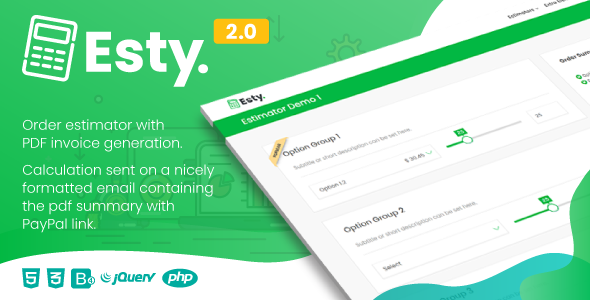 Esty is a highly useful tool that simplifies the process of estimating orders and generating PDF summaries, making it easy for ecommerce sellers to keep track of their sales and deliveries. Whether you're a small business owner, entrepreneur, or freelancer, this powerful platform is designed to streamline your sales workflow and maximize your productivity.
Esty boasts an intuitive user interface that allows users to easily enter their order details and generate accurate estimates in seconds. With a single click, you can create a professional quality PDF summary that includes all the pertinent information buyers need to complete their orders, from pricing and payment options, to shipping and delivery details.
Here are some of the key features of Esty:
– Order Estimator: This feature calculates the total cost of each order, taking into account shipping fees, taxes, and any discounts or coupons that may apply. You can also set custom shipping rates and tax rules, and view all your orders and estimates in one convenient dashboard.
– PDF Summary Generator: This powerful tool generates professional-quality PDF summaries that can be customized with your logo, branding, and other key details. You can also choose from a variety of templates and designs to meet your specific business needs.
– Customizable Fields: With Esty, you can customize every field to reflect your unique business needs. From order numbers and item descriptions to payment options and shipping details, you can tailor this platform to meet your specific requirements.
– Easy Integration: Esty is easy to integrate with popular ecommerce platforms like WooCommerce and Shopify. You can also export your orders and estimates to CSV format or connect with Zapier for even greater flexibility.
– User-friendly Interface: Esty features an intuitive user interface that requires no technical knowledge to use. You can easily create custom estimates and summaries, generate detailed reports, and track your sales from a single, user-friendly dashboard.
Overall, Esty is a valuable tool for any ecommerce seller looking to streamline their sales workflow, increase productivity, and grow their business. With its powerful features and easy-to-use interface, Esty makes it easy to generate accurate estimates and professional-quality PDF summaries that will keep your customers satisfied and your business thriving.
[