FOR DEMO WHATSAPP US ON +2348061676089
SEND US A MESSAGE ON FACEBOOK FOR MORE INFO and DEMO
https://facebook.com/websaro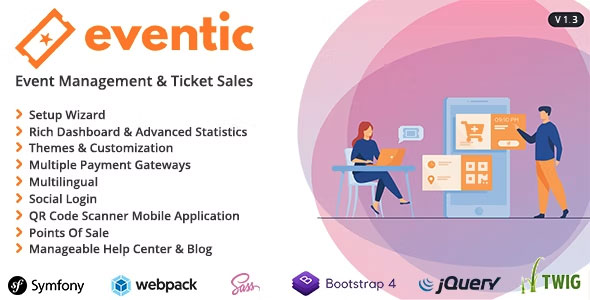 Eventic is a comprehensive ticket sales and event management system designed to streamline the process of event planning, organization, and ticket sales. It is a feature-packed solution that is perfect for individuals and organizations that need a powerful platform to manage their events.
With Eventic, you can easily sell tickets, manage events, and track your sales and attendance in real-time. The platform provides extensive features and capabilities, including:
1. Event Management: With Eventic, you can create and manage events with ease. You can quickly create event pages, manage ticket sales, and track attendance.
2. Ticket Sales: Eventic allows you to sell tickets online and offline. You can customize ticket prices, set sales limits, and generate unique QR codes for each ticket.
3. Attendee Management: The platform provides an attendee management system that allows you to keep track of ticket sales, attendee information, and check-in status.
4. Payment Processing: Eventic supports multiple payment gateways, including PayPal, Stripe, and more. You can quickly set up payment processing and start collecting payments in minutes.
5. Customization: The platform provides various customization options, including custom branding, ticket designs, email templates, and event pages.
6. Reporting Tools: Eventic provides a robust reporting system that lets you track your event's progress, sales, and attendance in real time.
7. Social Media Integration: With social media integration, Eventic allows you to promote your events easily on social media platforms like Facebook and Twitter.
Overall, Eventic is a feature-packed ticket sales and event management system that simplifies the process of planning and managing events. Whether you're an individual or an organization, Eventic provides a comprehensive solution to help you plan, sell, and manage your events effortlessly.
[