FOR DEMO WHATSAPP US ON +2348061676089
SEND US A MESSAGE ON FACEBOOK FOR MORE INFO and DEMO
https://facebook.com/websaro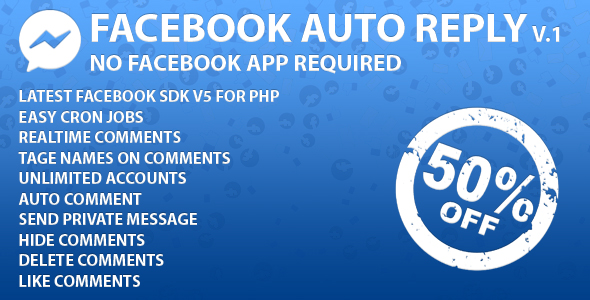 Facebook Auto Reply V.2.0.1 (SAAS Ready) is a powerful software that automates your Facebook page replies and helps you stay connected with your customers 24/7. Whether you're running an e-commerce business, a digital agency or you're a social media manager, this tool will revolutionize the way you interact with your audience.
This SAAS-ready software comes packed with a range of features that enable you to respond to messages and comments on your Facebook pages quickly and efficiently. Here are some of the amazing features that come with Facebook Auto Reply V.2.0.1 (SAAS Ready):
1. Smart Messenger Bot: Respond to customer queries and comments instantly and automatically with our intelligent messenger bot. You can train the bot with FAQs, canned responses, and personalized messages to ensure that your customers get the information they need, even when you're not online.
2. Auto Comment Reply: Reply to comments on your Facebook posts automatically. You can customize your responses with personalization and dynamic responses for maximum engagement.
3. Instant Notifications: Receive notifications every time there's a new comment or message on your Facebook page, so you can respond in real-time.
4. Multiple Accounts: Manage multiple Facebook pages and accounts effortlessly, all from one single dashboard.
5. Pre-built Campaigns: Take advantage of our pre-built campaigns for welcome messages, promotions, and more.
6. Custom Scheduling: Set schedules for how often and when you want Facebook Auto Reply V.2.0.1 (SAAS Ready) to interact with your audience.
7. Automatic Comment Moderation: Automatically moderate comments on your posts by hiding inappropriate comments and tagging potential spam comments.
8. Advanced Analytics: Track live statistics of your Facebook pages' performance, including engagement, click-through rates, and more.
With Facebook Auto Reply V.2.0.1 (SAAS Ready), you'll never miss a message or comment again, and you'll be able to engage with your audience like never before. So, what are you waiting for? Sign up today and streamline your Facebook page communication!
[