FOR DEMO WHATSAPP US ON +2348061676089
SEND US A MESSAGE ON FACEBOOK FOR MORE INFO and DEMO
https://facebook.com/websaro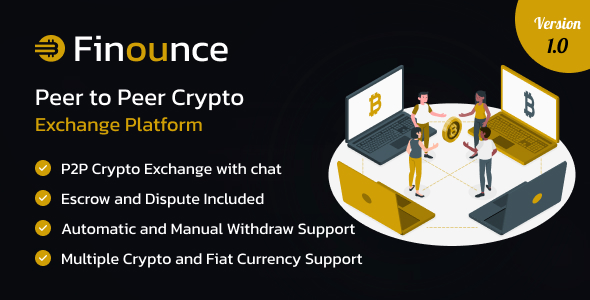 Finounce is an advanced peer to peer crypto exchange platform that provides a secure and reliable platform for trading cryptocurrencies. With its advanced trading features, users can easily buy and sell different cryptocurrencies with ease.
Some of the key features of Finounce include:
1. Peer to Peer Trading: Finounce offers a fully decentralized peer to peer trading system where users can easily buy and sell any cryptocurrency without any intermediaries.
2. Multi-Cryptocurrency Support: Finounce supports a wide range of cryptocurrencies including Bitcoin, Ethereum, Litecoin, and many more.
3. Advanced Trading Features: Finounce offers advanced trading features such as limit orders, stop-loss orders, market orders, and more.
4. Hot and Cold Wallets: Finounce keeps a portion of their users' funds in a hot wallet and a portion in a cold wallet to provide maximum security.
5. KYC Protocol: Finounce ensures the safety and security of its users by implementing a strict Know Your Customer protocol and AML (Anti-Money Laundering) laws.
6. Affiliate System: Finounce provides an affiliate system to its users whereby they can earn bonuses by referring new users to the platform.
7. Two-Factor Authentication: Finounce provides two-factor authentication for logging in and trading activities to enhance security and prevent unauthorized access.
8. User-Friendly Interface: Finounce offers a user-friendly interface that is easy to navigate with a comprehensive dashboard for efficient management.
In conclusion, Finounce provides a robust and secure platform for trading cryptocurrencies that is easy to use and provides great features for both beginners and advanced users.
[