FOR DEMO WHATSAPP US ON +2348061676089
SEND US A MESSAGE ON FACEBOOK FOR MORE INFO and DEMO
https://facebook.com/websaro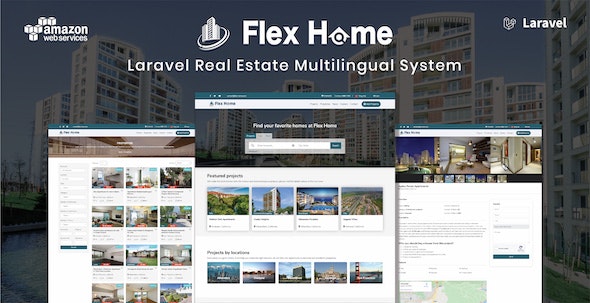 Flex Home is a powerful Laravel-based real estate multilingual system designed to meet the needs of real estate agents, agencies, and brokers. It provides a comprehensive solution for all your real estate needs, from managing your listings to generating leads and closing deals. With its intuitive user interface and extensive feature set, Flex Home streamlines your workflow, making it easy to handle all your real estate operations in one place.
Here are some of the key features of Flex Home:
1. Multilingual support: The system supports multiple languages, making it easy to create listings in different languages depending on your target audience.
2. Responsive design: The system is designed with a responsive layout, making it easy to access from different devices, including desktop and mobile devices.
3. Property management: The system provides powerful property management capabilities, allowing you to add, edit, and delete properties, as well as upload multiple photos and videos for each property.
4. Advanced search: Flex Home includes an advanced search feature that allows users to search for properties using various criteria such as property type, location, price range, and more.
5. Property listing widgets: Flex Home includes several property listing widgets that allow you to display your listings on different areas of your website, such as the homepage, sidebar, and footer.
6. Lead generation: The system includes a lead generation module that allows you to collect contact information from potential buyers and sellers, allowing you to follow up with them and close deals.
7. Reporting and analytics: Flex Home provides detailed reports and analytics on your sales, leads, and website traffic, allowing you to track the success of your real estate operations.
8. Built for Laravel: Flex Home is built with Laravel, one of the most popular PHP frameworks, providing a solid foundation for your real estate business.
Overall, Flex Home is a powerful and feature-rich real estate multilingual system that provides everything you need to manage your real estate business efficiently. With its intuitive interface, extensive feature set, and responsive design, Flex Home is the perfect solution for real estate agents, agencies, and brokers.
[