FOR DEMO WHATSAPP US ON +2348061676089
SEND US A MESSAGE ON FACEBOOK FOR MORE INFO and DEMO
https://facebook.com/websaro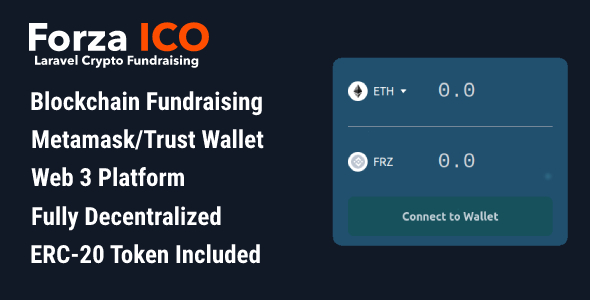 Introducing Forza ICO – Laravel CMS, the ultimate solution for ICO and cryptocurrency fundraising campaigns! This platform is built using Laravel, a powerful PHP framework known for its robust, scalable, and secure coding structure.
With Forza ICO – Laravel CMS, launching an ERC-20 pre-sale ICO campaign is easy and hassle-free. This crypto fundraising platform is fully equipped with features that allow you to manage your ICO campaigns with ease and efficiency.
Here are some of the main features of Forza ICO – Laravel CMS:
1. User Management: Forza ICO – Laravel CMS provides a user-friendly interface for managing and registering users. It also lets you assign user roles, access levels, and permissions.
2. Token Management: This platform allows you to create custom ERC-20 tokens and manage them easily.
3. ICO Dashboard: The ICO dashboard is the heart of the system and provides real-time statistics on your ICO campaigns. You can view the ICO status, the number of investors, total funds raised, and more.
4. Responsive Design: Forza ICO – Laravel CMS is fully responsive, making it the perfect platform for desktop, tablet, and mobile platforms.
5. Payment Gateway Integration: The platform is integrated with the most popular payment gateways like PayPal, Stripe, and others.
6. Referral System: The referral system is built into the platform, allowing users to refer friends and receive a referral bonus.
7. Advertising System: Forza ICO – Laravel CMS makes it easy to place ads across the platform, making it an excellent platform for advertising and promoting ICO campaigns.
8. Multi-Language Support: The platform supports multiple languages, allowing for a broader user base.
Overall, Forza ICO – Laravel CMS is the ideal platform for anyone looking to launch a successful ERC-20 pre-sale ICO campaign. It is easy to use, secure, and equipped with all the tools you need to manage your campaigns effectively. Try it out today and take your ICO campaigns to the next level!
[