FOR DEMO WHATSAPP US ON +2348061676089
SEND US A MESSAGE ON FACEBOOK FOR MORE INFO and DEMO
https://facebook.com/websaro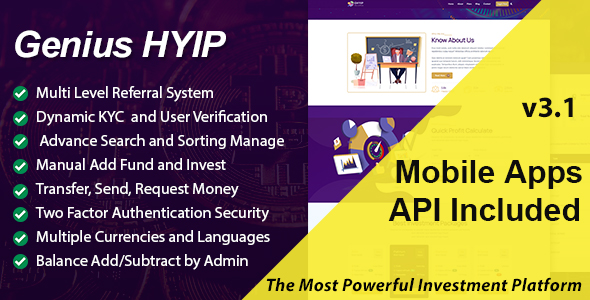 Genius HYIP is an all-in-one investment platform that allows users to easily create, manage, and monitor high-yield investment programs (HYIPs). With its intuitive and user-friendly interface, Genius HYIP makes it easy for even novice investors to start earning returns on their investments.
Features:
1. Multiple Investment Plans: With Genius HYIP, you can create multiple investment plans with different interest rates, duration, and minimum investment requirements.
2. Auto Withdrawal: Genius HYIP offers automatic withdrawal for users, ensuring that they receive their returns as soon as the investment plan expires.
3. Referral System: The platform has an integrated referral system that allows investors to earn a commission on the investments made by their referrals.
4. Multiple Payment Gateways: The platform supports multiple payment gateways including PayPal, PerfectMoney, and Bitcoin, allowing you to choose the payment method that suits you best.
5. Investment Calculator: The investment calculator provides users with an estimate of their returns based on their investment amount, interest rate, and duration of the investment plan.
6. User Management: Genius HYIP has a built-in user management system that allows you to track and manage user accounts, investments, and transactions.
7. Security Features: The platform is equipped with multiple security features such as SSL encryption, Google ReCaptcha, and two-factor authentication, ensuring that user information and transactions are secure.
Genius HYIP is the ultimate platform for investors looking to start their own HYIP, with its extensive features and user-friendly interface. Start your investment journey today with Genius HYIP.
[