FOR DEMO WHATSAPP US ON +2348061676089
SEND US A MESSAGE ON FACEBOOK FOR MORE INFO and DEMO
https://facebook.com/websaro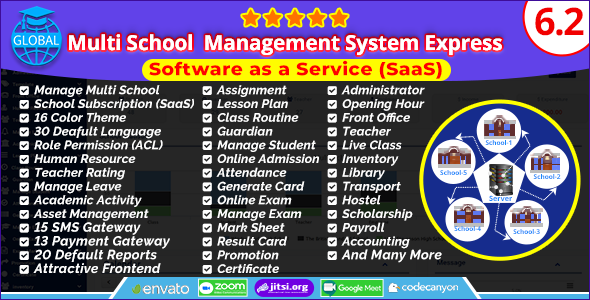 Global – Multi School Management System Express, as the name suggests, is a complete and comprehensive software solution for managing multiple schools at once. It is a powerful platform that is designed to simplify school management and streamline administrative tasks, making it an ideal solution for school administrators, teachers, students, and parents alike.
Global – Multi School Management System Express comes with a range of powerful features that make it highly flexible and customizable, allowing you to tailor it to your specific needs and requirements. Some of the most notable features of this platform include:
1. Multilingual support to enable users to use the platform in their preferred language.
2. Robust user management tools, allowing administrators to easily manage multiple users across multiple schools.
3. Comprehensive attendance management system that automates the attendance process and generates detailed reports.
4. Built-in grade management system that can be customized to meet the unique grading requirements of each school.
5. Online payment integration, allowing parents and students to pay school fees, book libraries, and buy tickets online.
6. A powerful exam management system enabling administrators to manage exams, create custom exams, and generate detailed reports.
7. Dynamic timetable management that enables teachers to create fully interactive timetables for each class.
8. Comprehensive library management system, allowing you to manage books, issue books, and track book issuance.
9. Fully customizable user interface and branding options.
10. Comprehensive reporting functionality, providing detailed analytics and insights for administrators and teachers.
Overall, Global – Multi School Management System Express is an excellent school management platform that provides all the tools you need to manage multiple schools with ease. With its powerful features and intuitive user interface, it is a must-have software solution for any school looking to streamline its operations and enhance student outcomes.
[