FOR DEMO WHATSAPP US ON +2348061676089
SEND US A MESSAGE ON FACEBOOK FOR MORE INFO and DEMO
https://facebook.com/websaro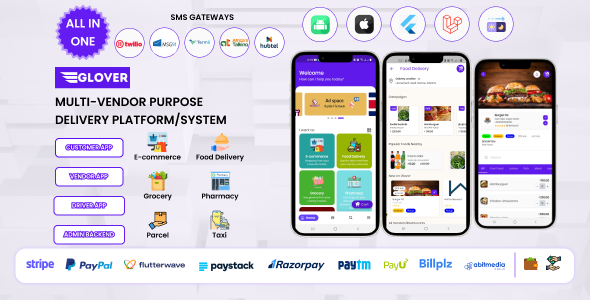 Glover is a comprehensive mobile application that provides seamless grocery, food, pharmacy, courier, and service delivery to customers. This app is designed to make the ordering process easier and more convenient for customers by enabling them to quickly find and order products they are looking for. It also features a robust backend management system and separate applications for drivers and vendors.
With Glover, you can provide a one-stop-shop solution for your customers' needs, whether it's groceries, food, medicine, or other essential items. Here are some of the core features of this must-have app:
– User-friendly interface: The app features an intuitive UI that allows customers to make orders, track deliveries, and communicate with vendors and drivers with ease.
– Multiple delivery options: Glover gives customers the flexibility to choose between pickup, home delivery, or curbside pickup.
– Advanced search function: The app features an advanced search function that makes it easy for customers to find what they need quickly.
– Order tracking: Customers can track their orders in real-time, including the estimated time of arrival (ETA), delivery schedule, and notifications.
– Secure payment options: The app supports various payment methods, including credit card, debit card, PayPal, and more.
– Review and ratings: Customers can rate and review products they purchase on the app, thus providing valuable feedback to vendors.
– Delivery driver app: A separate application for delivery drivers is available to ensure seamless communication between them and the customers.
– Vendor management: The vendor application allows businesses to manage products, orders, and customers from a user-friendly dashboard.
– Comprehensive backend: The backend system provides businesses with a complete overview of their operations, including orders, customers, revenue, and more.
Glover is an all-in-one solution for grocery, food, pharmacy, courier, and service delivery. By investing in this high-quality app, you can streamline your operations, improve customer satisfaction, and increase your revenue. Get started today and take your business to the next level!
[