FOR DEMO WHATSAPP US ON +2348061676089
SEND US A MESSAGE ON FACEBOOK FOR MORE INFO and DEMO
https://facebook.com/websaro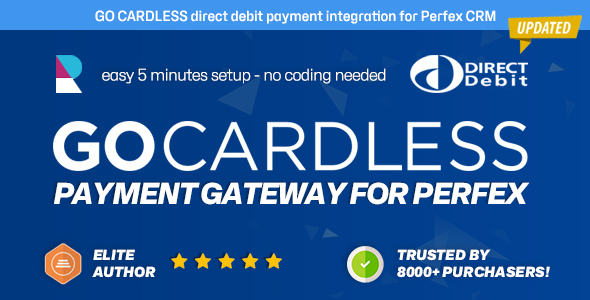 GoCardless Payment Gateway for Perfex CRM is a powerful plugin that integrates GoCardless, the popular UK-based online payment solution, with the Perfex CRM system. This plugin allows businesses to easily accept direct debit payments and manage data seamlessly through their Perfex CRM platform. It's easy for both administrators and customers to use, and helps to streamline payments, ultimately providing a better experience for everyone involved.
Some of the notable features include:
1. Accepting Direct Debit Payments: With GoCardless Payment Gateway for Perfex CRM, businesses can easily accept direct debit payments, allowing customers to conveniently pay recurring invoices on a scheduled basis.
2. Automatic Updates: The plugin will automatically update the status of an invoice once it has been fully paid, saving you time and effort in manually updating your CRM.
3. Detailed Payment Information: You'll have complete access to all transaction information such as date, status, amount, and more, so you can easily keep track of all payments and invoices.
4. Seamless Integration: The plugin integrates seamlessly with Perfex CRM, meaning you won't have to worry about installing any third-party software or performing any complex manual configuration steps.
5. Customisable Configuration: You can choose from various payment configuration options to make the plugin work exactly how you want it to. This includes limiting the amount of one-time payments or scheduling the total number of payments.
GoCardless Payment Gateway for Perfex CRM efficiently streamlines the payment process, saves time, and keeps business finance organised. It is perfect for businesses looking to make their payment process smooth and efficient.
[