FOR DEMO WHATSAPP US ON +2348061676089
SEND US A MESSAGE ON FACEBOOK FOR MORE INFO and DEMO
https://facebook.com/websaro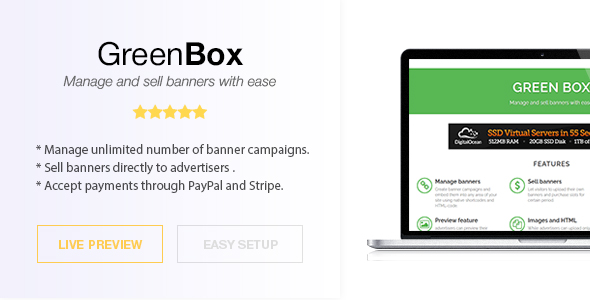 Green Box is a powerful standalone script for managing and selling banners on your website. With its user-friendly interface and robust features, you can easily create, manage, and track the performance of your banner campaigns.
Whether you're an advertiser looking to promote your brand or a publisher who wants to monetize your website, Green Box has got you covered.
Here are some of the key features of this script:
1. Banner Management: With Green Box, you can create and manage multiple banner campaigns, set targeting options, and schedule campaigns to run at specific times.
2. Analytics: The script offers detailed analytics reports that help you track the performance of your campaigns, including impression and click-through rates. You can also export reports in PDF or CSV formats.
3. Ad Formats: Green Box supports multiple ad formats, including standard banner ads, pop-ups, interstitials, and more.
4. Payment Gateway Integration: The script integrates with popular payment gateways, such as Stripe and PayPal, making it easy for you to collect payments from advertisers.
5. Customization: You can customize the script's appearance and functionality according to your needs, such as changing the language, adjusting pricing options, and more.
6. Responsive Design: Green Box is fully responsive, making it compatible with all devices and screen sizes.
7. Scalable: With its scalable architecture, the script can handle large amounts of traffic and is designed to grow along with your business.
In summary, Green Box is a comprehensive banner management and selling solution that offers a range of features and functionality. Whether you're a small business or a large media publisher, this script can help you manage your banner campaigns with ease and efficiency.
[