FOR DEMO WHATSAPP US ON +2348061676089
SEND US A MESSAGE ON FACEBOOK FOR MORE INFO and DEMO
https://facebook.com/websaro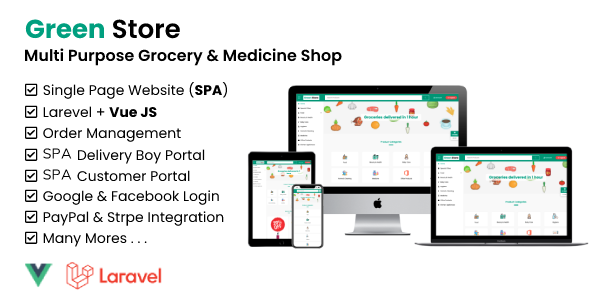 Green Store is a fully functional single-page grocery shop built using Laravel & VUE, aimed at providing an excellent user experience to your customers. This robust and dynamic application caters to a wide audience, ranging from small startup businesses to large supermarkets.
With its easy-to-use and comprehensive dashboard, you can effectively manage your inventory, sales, and customer interactions. The responsive layout of the interface ensures that your customers will be able to browse the store and place orders from any device, be it a desktop, laptop, tablet, or smartphone.
The following are the key features of Green Store – Laravel & VUE Single Page Grocery Shop:
1. Dynamic Product Catalog: The application comes with an extensive inventory management system that allows you to manage your products easily. You can add, edit and delete products as per requirement, and the application will automatically update the stock levels and pricing.
2. User-friendly Interface: The interface is designed to be easy-to-use and intuitive. Customers can easily search for products, place orders, and manage their account details.
3. Multiple Payment Options: Green Store seamlessly integrates with popular payment gateways, including Stripe, PayPal, and Razorpay, to provide a hassle-free checkout process.
4. Real-time Order Management: The application provides you with a real-time tracking system to manage orders effectively. You can view and manage orders, check for payment status, update order status, and track deliveries.
5. Interactive Cart System: The Cart system is designed to enhance the eCommerce experience for customers. It provides them with the ability to add, remove, or update items in their cart.
6. User Account Management: The application comes with a comprehensive user management system that allows customers to register, login, and manage their account information easily.
7. Performance-focused: Green Store application is built on the latest Laravel and Vue technologies, ensuring high performance and scalability.
In conclusion, Green Store – Laravel & VUE Single Page Grocery Shop is an excellent solution if you're looking to set up a robust online grocery store that offers a seamless user experience. Get started today to witness how Greenstore can help scale your e-commerce store!
[