FOR DEMO WHATSAPP US ON +2348061676089
SEND US A MESSAGE ON FACEBOOK FOR MORE INFO and DEMO
https://facebook.com/websaro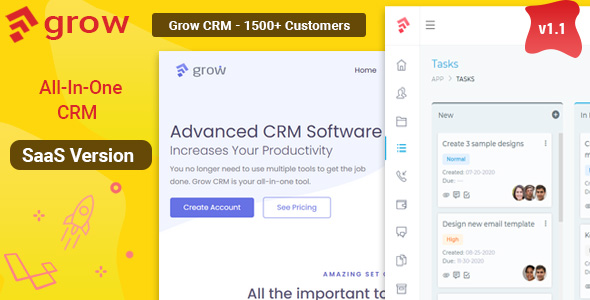 Grow CRM SaaS is a powerful and easy-to-use project management system built on Laravel, allowing businesses to manage their projects, tasks, and customers in a flexible and efficient way. The system supports multitenancy, enabling multiple companies or departments within the same organization to use the same software, with their own unique database and settings.
Key Features:
1. Project Management: Create and organize multiple projects, assign team members, track progress, and receive notifications on project updates.
2. Task Management: Create to-do lists, assign tasks to team members, set due dates, and track progress.
3. Customer Management: Manage customers, client contacts, and leads with a unified view, track sales progress, and send proposals.
4. Time Tracking: Track time spent on tasks, projects, and billable hours.
5. Invoicing: Create invoices from billable tasks, send payment reminders, and receive payments online.
6. Reports: Get a detailed overview of your team's performance, project profitability, and financial health.
7. Analytics: Visualize data and track key metrics with charts, graphs, and dashboards.
8. Collaboration: Collaborate with team members, clients, and contractors with built-in messaging and file sharing.
9. Customization: Customize the system to your needs, with flexible settings, custom fields, and branding options.
10. Security: Protect your data with multiple layers of security, including role-based access control, two-factor authentication, and data encryption.
Grow CRM SaaS is an all-in-one solution for businesses looking to streamline their project management and customer relationship management processes. With its user-friendly interface, powerful features, and robust architecture, Grow CRM SaaS is a must-have for any business looking to grow and stay competitive in today's fast-paced marketplace.
[