FOR DEMO WHATSAPP US ON +2348061676089
SEND US A MESSAGE ON FACEBOOK FOR MORE INFO and DEMO
https://facebook.com/websaro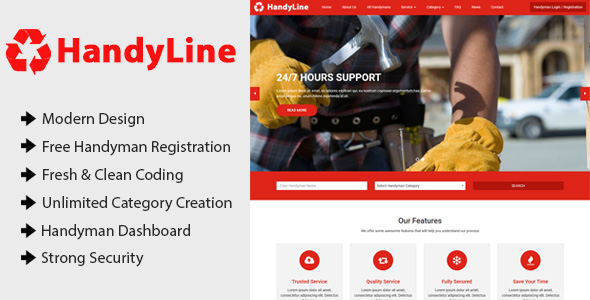 Handyline is a comprehensive and powerful Handyman Listing Directory CMS designed with the perfect combination of functionality and ease-of-use. It offers an extensive range of features and tools to help you build an engaging and engaging online directory where users can easily search and find the best local handymen and home improvement services.
Some of the key features of Handyline include:
1. Extensive search functionality: Handyline offers advanced search options that enable users to filter listings based on different criteria, such as location, service type, ratings, and reviews.
2. User-friendly interface: The platform's user interface is designed to be intuitive and easy to navigate, ensuring that users can find the information they need quickly and easily.
3. Multiple listing types: Handyline allows you to create different types of listings, such as individual handyman profiles, company listings, and service listings, giving users a wide range of options to choose from.
4. Comprehensive dashboard: The platform comes with a user-friendly dashboard that enables you to manage your listings, users, and other key aspects of your directory easily.
5. Multi-language support: Handyline supports multiple languages, making it easy for users from different backgrounds to use the platform.
6. Flexible monetization options: The platform includes flexible monetization options that enable you to earn revenue through advertising, featured listings, and other paid services.
7. Social media integration: Handyline integrates seamlessly with social media platforms, allowing users to share listings and reviews with their friends and followers.
Overall, Handyline is an all-in-one solution for anyone looking to create a powerful and effective online directory for handyman services. With its comprehensive features, user-friendly interface, and flexible monetization options, it's the perfect solution for entrepreneurs, startups, and established businesses alike.
[