FOR DEMO WHATSAPP US ON +2348061676089
SEND US A MESSAGE ON FACEBOOK FOR MORE INFO and DEMO
https://facebook.com/websaro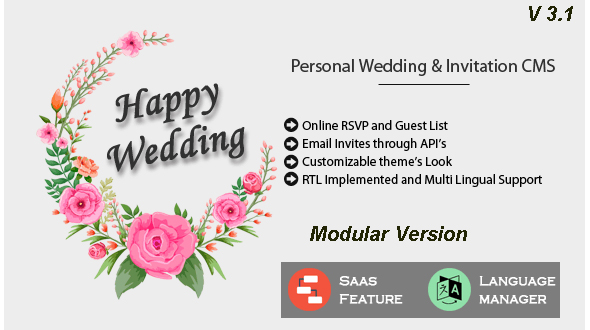 Happy Wedding is a personal wedding and invitation content management system that is perfect for users who want to create a great online platform for their wedding. This highly customizable platform comes with tons of features that enable you to design an elegant and beautiful invitation website that reflects your own style. Here are some of the key features that make Happy Wedding one of the best CMS platforms for personal wedding and invitation sites:
1. Responsive Design:
Happy Wedding comes with a responsive design, which means that your website will look great on any device, whether it's a smartphone, tablet, or desktop computer.
2. Powerful Admin Panel:
The admin panel of Happy Wedding is user-friendly and allows you to manage your site without any difficulties. You can easily customize the design, update the content, and add new features.
3. RSVP Management:
Happy Wedding has an easy-to-use RSVP management system that allows you to keep track of all your guests. You can create a guest list, send out invitations, and track responses.
4. Gift Registry:
Happy Wedding also comes with a Gift Registry feature which helps you create a list of gift items that you'd love to receive from your guests as wedding gifts.
5. Events Management:
Happy Wedding makes it easy to create and manage events for your wedding. You can create various events on your site such as the engagement party, wedding rehearsal dinner, and more.
6. Social Media Integration:
Happy Wedding comes with social media integration that allows you to easily share your wedding site on social media platforms such as Facebook, Twitter, Instagram, and more.
7. Countdown Timer:
Keep track of the days remaining until your wedding with the built-in countdown timer feature.
8. Customizable Design:
The platform comes with a variety of design options, you can choose from a wide range of themes or create a custom theme to best suit your wedding.
9. Guestbook:
Happy Wedding includes a guestbook feature that allows your guests to share their memories and best wishes for your big day.
10. Email Notifications:
Receive email notifications whenever a guest RSVPs or signs the guest book.
With Happy Wedding, you can create a stunning wedding and invitation website within minutes, all while enjoying all the benefits of a completely customizable CMS platform. So what are you waiting for? Start creating your dream wedding today!
[