FOR DEMO WHATSAPP US ON +2348061676089
SEND US A MESSAGE ON FACEBOOK FOR MORE INFO and DEMO
https://facebook.com/websaro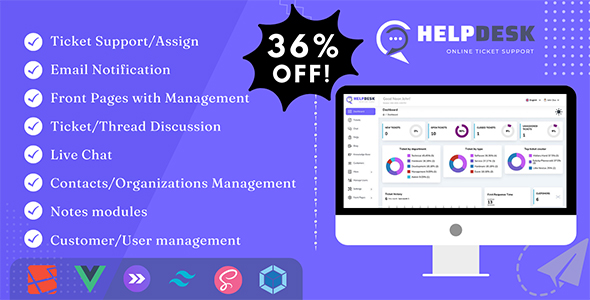 HelpDesk is a comprehensive online ticketing system designed to cater to the needs of customer support and service teams. With HelpDesk, you can manage your support tickets, streamline customer communication, and efficiently resolve issues.
Some of the key features of HelpDesk include:
1. Easy to Use Interface
HelpDesk features an intuitive and user-friendly interface that makes it easy to navigate and use. With its simple and streamlined design, you can quickly access all the features and tools you need to manage your support tickets and resolve customer queries.
2. Customizable Ticket Fields
Customize your ticket fields to fit your business requirements and streamline the support ticketing process. With HelpDesk, you can add, remove and rearrange fields to capture all the necessary information required to resolve a ticket.
3. Multi-Channel Support
HelpDesk provides multi-channel support including email, web portal and social media to make it easy for your customers to reach out to you. It integrates with your website, allowing customers to create and manage their support requests 24/7.
4. Team Collaboration
Collaborate with your team members to resolve support tickets faster through an internal note system. This feature allows for seamless communication between team members and the ability to track team performance and progress.
5. Automated Ticket Routing
HelpDesk's intelligent ticket routing system uses predefined rules to allocate tickets to specific team members depending on the type of inquiry, ensuring that tickets are resolved quickly and by the right person.
6. Reporting and Analytics
Get insights into your team's performance, track key performance indicators, and analyze customer feedback to make data-driven decisions that will improve your customer service experience.
HelpDesk is a powerful, all-in-one ticketing system that simplifies the customer support process and saves you time. With HelpDesk, you can decrease response times, improve customer satisfaction, and increase team productivity.
[