FOR DEMO WHATSAPP US ON +2348061676089
SEND US A MESSAGE ON FACEBOOK FOR MORE INFO and DEMO
https://facebook.com/websaro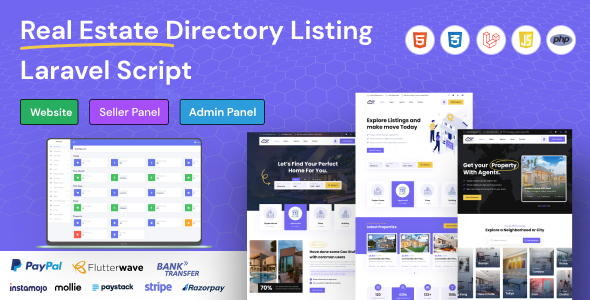 Introducing Homeco, a powerful and comprehensive real estate directory listing Laravel script designed to showcase property listings and connect buyers with sellers effortlessly. This script is user-friendly, efficient, and easy to customize, with a variety of features that make it the perfect choice for real estate professionals.
Some of the features of Homeco include:
1. Advanced Search Functionality: Find properties by location, price range, number of bedrooms, and more. Search using keywords and filters to help you narrow your selection quickly.
2. Featured Listings: Highlight featured properties that you want to promote. This creates visibility and helps increase your chances of selling the property fast.
3. User-Generated Content: Let users add their properties to your directory efficiently, using custom forms that are easy to use.
4. Responsive Design: The clean and modern design of Homeco offers a seamless user experience that is optimized for desktop, tablet, and mobile devices.
5. Google Maps Integration: Allow users to get a bird's eye view of properties and visualize their location using Google Maps integration.
6. User Management: This script comes with an advanced user management system to control access to the administration area of the website.
7. Comprehensive Dashboard: Admins can easily manage property listings, user accounts, and site settings with an intuitive dashboard.
8. Payment Gateways Integration: Homeco supports various payment gateways, making it easy to monetize your website.
9. Social Media Integration: Integrate your social media channels seamlessly with your website, allowing users to find you on various platforms.
10. SEO-Friendly: This script is designed to support Search Engine Optimization (SEO) best practices making it search engine friendly and optimize your website's visibility.
From property listings to advanced search functionality and user management, Homeco is the ultimate real estate directory listing Laravel script that will make your real estate business thrive. Try it out today!
[