FOR DEMO WHATSAPP US ON +2348061676089
SEND US A MESSAGE ON FACEBOOK FOR MORE INFO and DEMO
https://facebook.com/websaro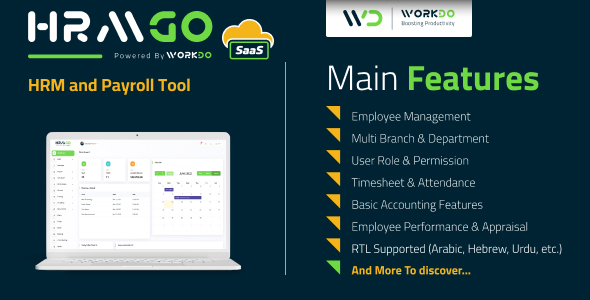 HRMGo SaaS is a comprehensive HRM and Payroll tool designed to simplify the HR and Payroll processes for businesses of any size. With this all-in-one solution, businesses can easily manage HR functions, simplify payroll processes, and streamline employee database management.
HRMGo SaaS provides an intuitive interface that empowers users to manage all aspects of HR and Payroll with ease. Businesses can leverage features like employee management, employee onboarding, leave management, expense management, attendance management, and more to ensure that all HR functions are carried out with the utmost efficiency.
Key features of HRMGo SaaS include:
1. Employee Management: Manage employee data, employment history, salary history, and more all in one place.
2. Employee Onboarding: Create custom onboarding templates to ensure new hires receive a seamless onboarding process to make them feel welcome and settled in their new role.
3. Leave Management: Request, approve, and manage employee leaves with ease.
4. Attendance Management: Track employee attendance with ease, ensuring accurate salary computation.
5. Expense Management: Manage employee expenses like travel, meals, and more.
6. Payroll: Process payroll, generate pay-slips and other salary-related documents, and provide salary reports.
7. Financial Year Management: Define and manage financial years, tax rates, and pay components for each financial year.
8. Reports: Generate a wide range of useful business reports to help you stay on top of key performance indicators.
HRMGo SaaS is a secure, reliable, and flexible tool that can benefit businesses in any industry. Manage your HR functions and payroll processes like a pro with HRMGo SaaS.
[