FOR DEMO WHATSAPP US ON +2348061676089
SEND US A MESSAGE ON FACEBOOK FOR MORE INFO and DEMO
https://facebook.com/websaro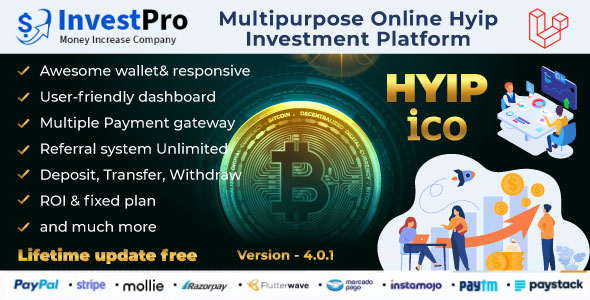 Hyip InvestPro is an advanced investment platform that allows users to invest in high-yield investment programs (HYIP) and initial coin offerings (ICO) securely and conveniently. This platform is packed with cutting-edge features and advanced functionalities that make it easy for users to manage their investments, track their profits, and withdraw their earnings seamlessly.
With Hyip InvestPro, users can create their investment portfolios, deposit funds, and track their investments in real-time using the intuitive dashboard. The platform features robust security protocols that ensure the safety of user data and transactions, including SSL encryption, two-factor authentication, and IP blocking.
Some of the standout features of Hyip InvestPro include:
1. Advanced Wallet Management: Hyip InvestPro allows users to manage their funds with ease. Users can deposit and withdraw funds, view transaction history, and manage multiple wallets from the platform's user-friendly interface.
2. Investment Tracking: The investment tracking feature allows users to track their investments in real-time. Users can view their earnings, profit/loss statements, and investment history all in one place.
3. Payment Gateway Integration: Hyip InvestPro features an integrated payment gateway that supports multiple payment options, including cryptocurrencies. This feature enables users to invest and withdraw their earnings seamlessly.
4. Referral Program: Hyip InvestPro also features a robust referral program that offers rewards to users who refer new investors to the platform. This feature provides an additional income stream for users who actively promote the platform.
Hyip InvestPro is the ultimate HYIP & ICO investment wallet and banking platform. With its advanced features and cutting-edge functionalities, investing in high-yield investment programs and ICOs has never been easier or more convenient. Get Hyip InvestPro today and start growing your wealth!
[