FOR DEMO WHATSAPP US ON +2348061676089
SEND US A MESSAGE ON FACEBOOK FOR MORE INFO and DEMO
https://facebook.com/websaro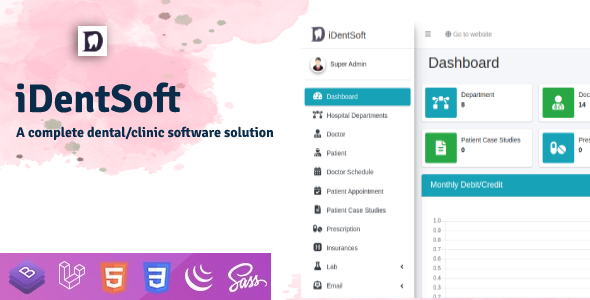 iDentSoft is a comprehensive dental and clinic management software solution designed to streamline the operations of dental practices, clinics, and hospitals of any size. This all-in-one software package is packed with features that facilitate the smooth day-to-day management of patient records, appointments, treatment plans, and more. From an intuitive interface to powerful automation features, iDentSoft offers a complete suite of tools, allowing dental practices to deliver high-quality care and grow their business.
FEATURES:
1. Patient Management:
• Add, Edit, and Manage patient records
• Track appointment history, patient treatments and treatment plans
• Add images and notes to individual patient records
2. Appointment Management:
• Automated appointment scheduling and follow-ups
• Track and manage appointment history
• SMS and Email patient reminders
3. Clinical Management:
• Manage patient treatments and treatment plans
• Charting based on International standards for dental clinical records
• File attachments and notes for current and historical treatments
4. Financial Management:
• Organize invoices and payments
• Generate bills and receipts automatically
• Manage patient account credit and debit statement
5. Reporting:
• Generate daily, weekly, monthly, and yearly reports
• Comprehensive patient reporting
• Financial reporting
6. Dashboard:
• An easy-to-navigate user interface
• Customizable dashboard for easy access to key modules
• At-a-glance appointments, patient and financial information
7. User Management:
• Fully customizable access rights and roles
• Control, system security
• Management of user accounts and associated information
iDentSoft simplifies the dental management process, enabling practitioners to focus on treating patients and growing their business. Join the growing community of satisfied users and take control of your dental practice today!
[