FOR DEMO WHATSAPP US ON +2348061676089
SEND US A MESSAGE ON FACEBOOK FOR MORE INFO and DEMO
https://facebook.com/websaro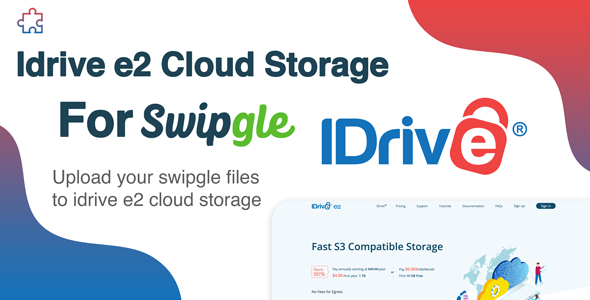 Introducing Idrive e2 Cloud Storage Add-on, the perfect solution for anyone looking to add cloud storage functionality to their Swipgle platform. With this easy-to-use add-on, you can seamlessly integrate Idrive e2 Cloud Storage into your Swipgle platform, giving your users access to the cloud storage features they need to store, manage, and share their files.
Features Include:
1. Seamless Integration: Quickly and easily integrate Idrive e2 Cloud Storage into your Swipgle platform with just a few clicks.
2. Automatic Synchronization: Our add-on automatically synchronizes all of your users' files and folders, ensuring that the most up-to-date version is always available.
3. File Sharing: Allow your users to share their files with others via email or direct link.
4. Advanced Security Features: Our add-on uses advanced security features to ensure that your users' data is safe and secure, including 256-bit AES encryption and SSL/TLS encryption.
5. Multi-Device Compatibility: Our add-on is compatible with all major devices, including Windows, Mac, Android, and iOS.
6. User-Friendly Interface: Our add-on is designed to be easy to use for both you and your users, with a simple and intuitive interface.
7. Unlimited Storage: With Idrive e2 Cloud Storage, your users can store unlimited files, with support for files up to 10 GB in size.
8. 24/7 Customer Support: Our team of experts is available 24/7 to assist you with any questions or issues you may have.
Don't miss out on the opportunity to take your Swipgle platform to the next level with Idrive e2 Cloud Storage Add-on. Get started today and start offering your users the cloud storage features they need to succeed!
[