FOR DEMO WHATSAPP US ON +2348061676089
SEND US A MESSAGE ON FACEBOOK FOR MORE INFO and DEMO
https://facebook.com/websaro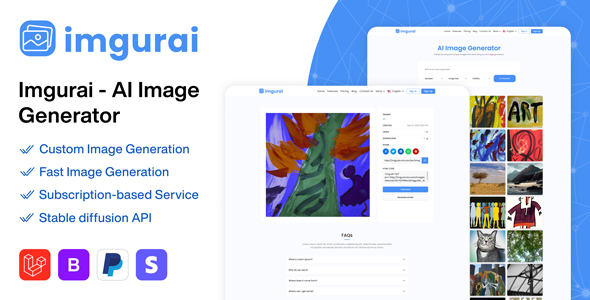 Imgurai – AI Image Generator (SAAS) is a powerful and easy-to-use tool that revolutionizes the way you create, edit and optimize images for your website or social media channels. With its advanced artificial intelligence technology, Imgurai can generate stunning, high-quality images in seconds, saving you time and money without sacrificing quality.
Key Features:
1. Advanced AI technology: Imgurai leverages cutting-edge machine learning algorithms to generate images that are visually striking and highly engaging.
2. Easy to use: The platform is incredibly intuitive and user-friendly, making it easy for anyone to create stunning images in seconds.
3. Wide range of templates: From social media graphics to blog post images, Imgurai includes a vast library of customizable templates that can be tweaked to match your brand's unique visual style.
4. Automatic resizing: Whether you need a full-screen background image or a tiny thumbnail, Imgurai can automatically adjust your images to the optimal size, so you don't have to worry about resizing them manually.
5. Creative freedom: With Imgurai you can adjust the color, font and other design elements to truly customize your images based on your vision.
6. High-resolution images: All images generated by Imgurai are of the highest quality, ensuring your content stands out from the crowd.
7. Affordable: Imgurai is a cost-effective way to create high-quality images without having to hire a professional graphic designer.
Give Imgurai a try today and see how easy it is to create stunning, high-quality images that are sure to capture your audience's attention.
[