FOR DEMO WHATSAPP US ON +2348061676089
SEND US A MESSAGE ON FACEBOOK FOR MORE INFO and DEMO
https://facebook.com/websaro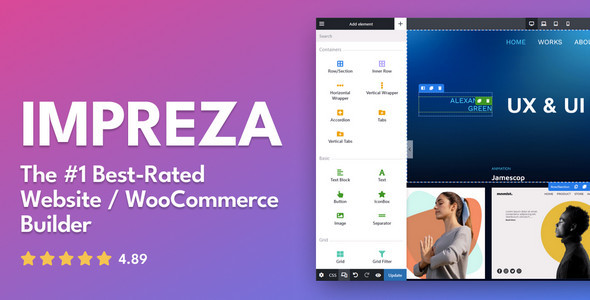 Impreza is a powerful and versatile WordPress website and WooCommerce builder that lets you create stunning websites with ease. It comes with an intuitive interface and a range of pre-built templates that enable you to create sites for any business or creative project.
Impreza is ideal for beginners and experts alike as it offers a range of features that cater to all levels of expertise. With this builder, you can create your website from scratch or choose from the many ready-to-use templates that come with the package.
Some of the key features of Impreza are:
1. Drag and drop builder – Impreza lets you build your website with ease using a drag and drop interface. Create your pages, add your images and customize the look and feel of your site with just a few clicks.
2. WooCommerce integration – This builder comes with full WooCommerce integration, which means you can build and manage your online store with ease.
3. Customizable components – Impreza offers a range of customizable components such as sliders, carousels, forms, and more. These can be easily added to your website and styled to match your brand.
4. Multiple layout options – The builder offers a range of layout options that can be customized to your needs. Choose from boxed or full-width, standard or masonry, and more.
5. High-quality design – Impreza boasts a range of high-quality pre-built templates that are designed to make your website stand out. These templates cater to a range of industries and are easily customizable.
6. Speed optimization – Impreza is optimized for speed, ensuring that your website loads quickly for a hassle-free user experience.
In conclusion, Impreza is a feature-packed WordPress website and WooCommerce builder that offers a range of tools and components to create stunning websites with ease. Whether you're a beginner or an expert, Impreza has everything you need to start creating your dream website.
[