FOR DEMO WHATSAPP US ON +2348061676089
SEND US A MESSAGE ON FACEBOOK FOR MORE INFO and DEMO
https://facebook.com/websaro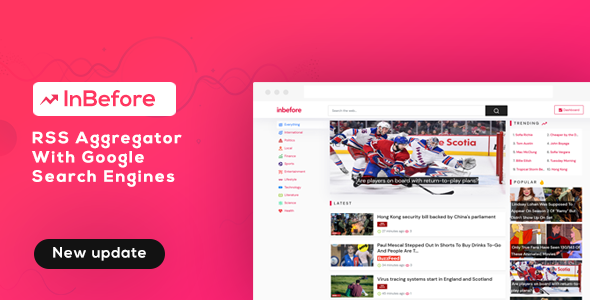 InBefore is a powerful news aggregator script that comes equipped with an advanced search engine functionality. With this script, you can create your own news aggregator website that collects and displays the latest news from various sources. The script provides an intuitive interface for exploring news articles and searching for relevant information with ease.
Here are some of the key features of InBefore:
1. Easy Installation: The script is easy to install and can be set up in just a few clicks.
2. Multiple Sources: The script supports multiple sources, including RSS feeds, YouTube videos, and Twitter hashtags.
3. Customizable Layout: The script comes with a customizable layout, allowing you to modify the appearance of your aggregator website to suit your branding needs.
4. SEO Friendly: The script is SEO-friendly, making it easy for your website to rank higher in search engine results pages.
5. Social Sharing: The script offers social sharing options, allowing users to share news articles on their social media channels.
6. Powerful Search Engine: The script's search engine is powerful, allowing users to search for news articles based on keywords, categories, and sources.
7. User-Friendly Interface: The script comes with a user-friendly interface, offering a streamlined user experience.
8. Easy Integration: The script can be easily integrated with other websites and platforms.
9. Responsive Design: The script comes with a responsive design, allowing users to access your website from any device.
10. Advanced Analytics: The script offers advanced analytics, allowing you to track the performance of your website and identify areas for improvement.
InBefore is an excellent choice for anyone looking to create a news aggregator website with advanced search engine features. With its easy installation process, customizable layout, powerful search engine, and user-friendly interface, InBefore is a must-have tool for anyone looking to stay up-to-date on the latest news and events.
[