FOR DEMO WHATSAPP US ON +2348061676089
SEND US A MESSAGE ON FACEBOOK FOR MORE INFO and DEMO
https://facebook.com/websaro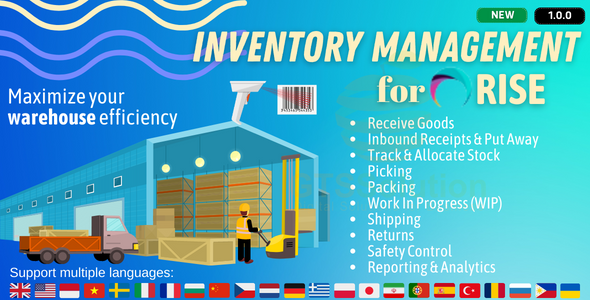 Introducing the Inventory Management plugin for RISE CRM – the perfect solution for businesses looking to streamline their inventory tracking process and optimize their supply chain management.
This easy-to-use plugin allows you to efficiently manage and track your stock levels, set reorder points and generate automated purchase orders to ensure you always have sufficient stock. With its user-friendly interface and powerful features, the Inventory Management plugin is an indispensable tool for any modern business.
Features:
1. Streamlined inventory tracking: Easily track all your products and their stock levels in one place.
2. Notification alerts: Receive alerts when stock levels fall below your set reorder points, allowing you to quickly restock and streamline your supply chain management.
3. Customizable purchase orders: Create custom purchase orders and automate the order process to save time and increase efficiency.
4. Reporting and analysis: Generate comprehensive reports detailing stock levels, sales, and purchase history to gain a deeper understanding of your business operations.
5. Barcode scanning: Efficiently manage your inventory by scanning barcodes and tracking individual products.
6. Multi-location support: Manage your inventory across multiple locations and warehouses seamlessly.
7. Integration: Seamlessly integrate the Inventory Management plugin with other RISE CRM plugins to transform your business process.
In conclusion, the Inventory Management plugin for RISE CRM is a must-have for any business looking to streamline their inventory tracking process and improve their supply chain management. With its comprehensive features and user-friendly interface, it's an invaluable tool that helps businesses save time, boost efficiency, and drive growth.
[