FOR DEMO WHATSAPP US ON +2348061676089
SEND US A MESSAGE ON FACEBOOK FOR MORE INFO and DEMO
https://facebook.com/websaro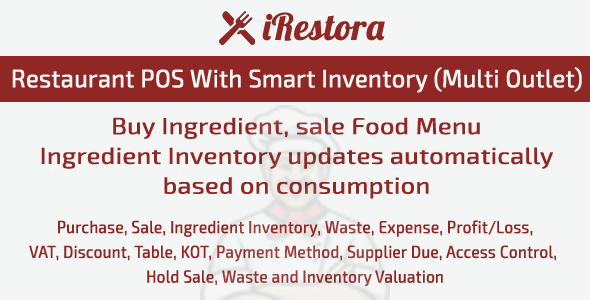 iRestora is an all-in-one restaurant point of sale (POS) system with a smart inventory management feature that is perfect for multi-store restaurant owners. This powerful system is available for purchase on Codecanyon and provides restaurant owners with a comprehensive solution for managing their daily operations and inventory.
With iRestora, restaurants can easily manage their orders, inventory, and staff, all from a single, easy-to-use interface. The system also includes a range of powerful features, including:
1. Multi-store management: iRestora allows you to manage all your restaurant locations from a single dashboard, making it easy to track inventory, sales, and staff across all your stores.
2. Smart inventory management: With automated stock management, iRestora helps you track inventory levels, prevent stockouts, and reduce waste. This feature makes it easy to keep your kitchen stocked with the right ingredients, ensuring that you can fulfill orders without delay.
3. Sales and analytics: iRestora provides real-time sales and analytics data, so you can make informed decisions about your restaurant operations. You can see which dishes are selling well, which menu items need updating, and which staff members are performing best.
4. User-friendly interface: iRestora's user-friendly interface makes it easy to train staff quickly and efficiently. The system's intuitive design means that anyone on staff can quickly learn how to use it, saving you time and money on training.
5. Customizable menu: iRestora allows you to customize your menu to suit your restaurant's needs. You can add or remove items, change prices, and more.
6. Payment integration: iRestora integrates seamlessly with popular payment systems like PayPal, Stripe, and Square, allowing you to accept payments quickly and securely.
7. Data security: iRestora is fully GDPR-compliant, ensuring that your customers' data is secure and protected.
Overall, iRestora is a must-have for any restaurant owner looking to streamline their operations and increase efficiency across multiple stores. Purchase iRestora today and start optimizing your restaurant operations!
[