FOR DEMO WHATSAPP US ON +2348061676089
SEND US A MESSAGE ON FACEBOOK FOR MORE INFO and DEMO
https://facebook.com/websaro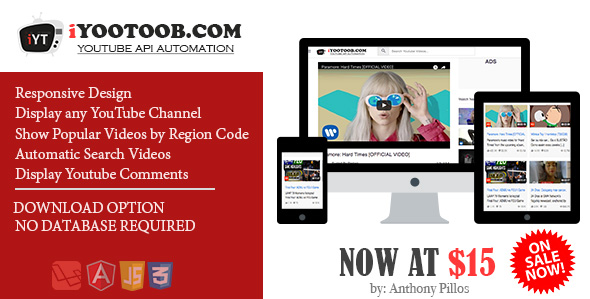 iYOOTOOB is a powerful YouTube API automation tool that automates your YouTube channel along with all its features and functions. It is a complete solution that allows you to manage your own YouTube channel or create multiple channels with ease. With iYOOTOOB, you can easily create videos, add subtitles, manage playlists, add tags, and much more.
This codecanyon item comes with an impressive set of features that enables you to take full advantage of YouTube's API and grow your channel like never before. Here are some of the features that you can expect from iYOOTOOB:
1. Complete Video Automation: You can easily upload, delete, and manage videos on your channel with iYOOTOOB. It also allows you to add subtitles, descriptions, tags, and thumbnails to your videos.
2. Playlist Management: You can create and manage playlists on your YouTube channel with iYOOTOOB. You can add or remove videos, change the order of videos, and much more.
3. Channel Customization: You can customize your channel by adding banners, logos, and descriptions with iYOOTOOB.
4. Comment Management: You can manage comments on your videos, delete inappropriate comments, reply to comments, and much more with iYOOTOOB.
5. Analytics: iYOOTOOB provides detailed analytics that helps you to understand your audience's behavior, and to optimize your videos.
6. Automated SEO Improvements: This codecanyon item comes with an automatic SEO improvement option that helps you to optimize your videos for search engines and increase your ranking on YouTube.
7. Multiple Channels: You can create multiple channels on YouTube with iYOOTOOB and manage them all from a single dashboard.
8. Schedule Video Uploads: You can schedule your video uploads from iYOOTOOB, and it will automatically upload them on your specified date & time.
The iYOOTOOB is a must-have to run your YouTube channel in the most effective and efficient way. Get it and see your channel flourish like never before.
[