FOR DEMO WHATSAPP US ON +2348061676089
SEND US A MESSAGE ON FACEBOOK FOR MORE INFO and DEMO
https://facebook.com/websaro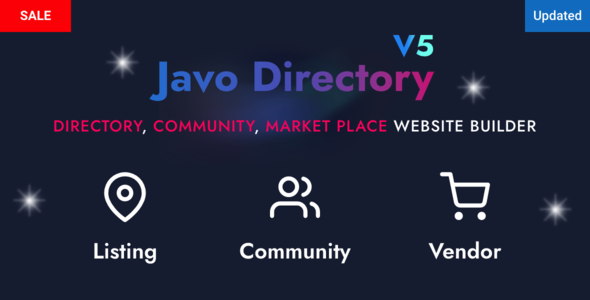 Javo Directory WordPress theme is a powerful and versatile theme that is perfect for creating websites for business directories, local directories, and city guides. Its flexible design and robust features make it easy to customize, whether you're creating a directory for businesses, individuals, or places.
Some of the notable features that come with this theme include:
1. Responsive design – Javo Directory is fully responsive, ensuring that your website looks and functions great on any device, whether it be a desktop computer, tablet, or smartphone.
2. Comprehensive search functionality – The theme comes with advanced search options that allow visitors to search for listings based on city, state, zip code, category, and more.
3. Customizable maps – You can add your own markers and categories to the theme's built-in Google Maps integration.
4. Multiple listing types – Javo Directory allows you to create different types of listings, such as businesses, events, and classifieds.
5. User registration and submission – Users can submit their own listings and manage their profiles using a simple registration and login system.
6. Front-end management – The theme comes with a front-end management system that allows users to manage their listings and profiles without having to access the WordPress dashboard.
7. Integrated reviews and ratings – Visitors can leave reviews and ratings for listings, helping other users to make informed decisions.
8. Social media integration – Javo Directory comes with social media integration, allowing listings to be easily shared on popular social media platforms like Facebook and Twitter.
9. Automated notifications – You can set up automated notifications for various events, such as when a new listing is submitted or a new review is posted.
Overall, Javo Directory is a feature-packed theme that is perfect for anyone looking to create a robust and customizable directory website. Its responsive design, comprehensive search functionality, and powerful customization options make it an ideal choice for businesses, bloggers, and entrepreneurs alike.
[