FOR DEMO WHATSAPP US ON +2348061676089
SEND US A MESSAGE ON FACEBOOK FOR MORE INFO and DEMO
https://facebook.com/websaro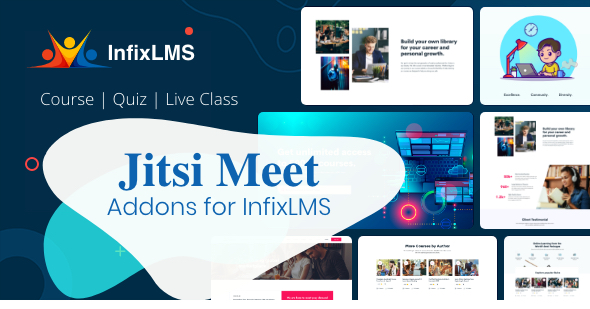 Jitsi Meet – InfixLMS Module is a powerful plugin developed for the InfixLMS platform that allows educators and learners to seamlessly conduct online meetings and webinars, collaborate in real-time, and enhance their online learning experience. This module integrates Jitsi Meet, a free and open-source video conferencing platform, into InfixLMS, one of the leading learning management systems in the market.
With Jitsi Meet – InfixLMS Module, you can easily schedule and manage virtual meetings, host webinars, and share your screen, documents, and presentations with ease. This module is ideal for educators, trainers, and organizations that need a reliable and secure online meeting solution for their remote learning and collaboration needs.
Main Features of Jitsi Meet – InfixLMS Module:
1. Real-time Audio and Video Conferencing: Allows educators and learners to connect via high-quality video and audio conferencing.
2. Screen Sharing: Makes it easy to collaborate and share documents, presentations, and other materials in real-time.
3. Whiteboard: Helps educators to conduct interactive sessions and brainstorm ideas with learners.
4. Recording and Playback: Allows users to easily record their meetings and webinars and access them later for review and reference.
5. Chat and Q&A: Enables learners to ask questions and get instant responses from the host during the meeting or webinar.
6. Multi-Platform Compatibility: Supports all major browsers and devices, including desktop, tablet, and mobile.
7. Security and Privacy: Jitsi Meet – InfixLMS Module is highly secure and encrypted, ensuring that your meetings and webinars are safe and secure.
With Jitsi Meet – InfixLMS Module, you can create and manage online meetings and webinars effortlessly and provide your learners with a comprehensive online learning experience. This plugin is an excellent addition to any InfixLMS-based eLearning platform that needs a reliable and cost-effective video conferencing solution.
[