FOR DEMO WHATSAPP US ON +2348061676089
SEND US A MESSAGE ON FACEBOOK FOR MORE INFO and DEMO
https://facebook.com/websaro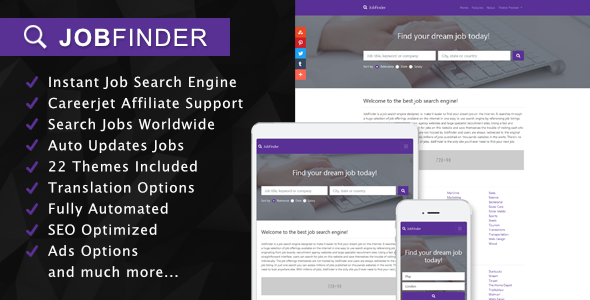 JobFinder is a powerful job search engine affiliate script that allows you to create a fully automated job search website. This script is packed with several advanced features that make it easy for users to search and find jobs on your website, while also providing you with an easy way to monetize your site through affiliate commissions.
Key Features:
1. Automated job search engine: This script automatically searches and pulls in job listings from multiple job sites, including Indeed, CareerJet, and SimplyHired.
2. Affiliate commission system: Earn commissions on each job application submitted through your website. You can also earn commissions on ad clicks and banner displays.
3. Comprehensive job search filters: Users can easily filter jobs based on different criteria such as location, job type, salary range, and more.
4. Geo-location-based search: Users can easily find jobs that are available in their area by using the geo-location search feature.
5. Job alerts: Users can set up email alerts to be notified when a new job that matches their search criteria is posted.
6. Mobile responsive design: JobFinder is designed to be mobile-friendly so that users can easily access your site and search for jobs on any device.
7. Multiple revenue streams: This script is designed to help you earn money through multiple revenue streams, including affiliate commissions, ad clicks, and banner displays.
8. Customizable templates: Choose from several pre-designed templates and customize them to match your branding and design preferences.
9. Easy to install: This script comes with an easy-to-follow installation wizard that makes it simple to install and set up your job search site.
In summary, JobFinder is a powerful job search engine affiliate script that comes packed with several advanced features to help you build a successful and profitable online job search website. It's easy to use, easy to customize, and comes with multiple revenue streams to help you earn money from your site. Try it today!
[