FOR DEMO WHATSAPP US ON +2348061676089
SEND US A MESSAGE ON FACEBOOK FOR MORE INFO and DEMO
https://facebook.com/websaro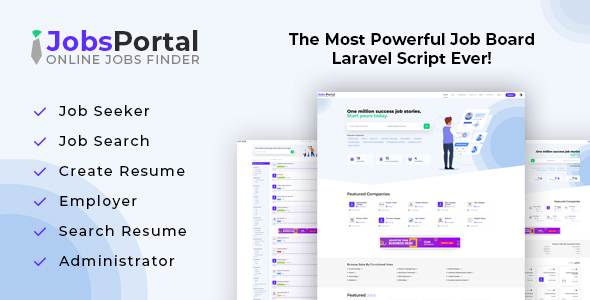 Introducing Jobs Portal, the ultimate job board Laravel script designed to help entrepreneurs launch a powerful and versatile job search platform. With advanced capabilities and a user-friendly interface, this script offers an efficient solution that allows job seekers and businesses to connect with one another.
Built using the latest version of Laravel, Jobs Portal is an all-in-one solution that comes packed with a range of features that will help you create a job board website that is tailored to your needs.
Key Features:
1. Job Search: Users can search for jobs based on parameters such as location, job title, category, company name, and more.
2. Job Listings: Employers can post job listings that are visible to job seekers, complete with detailed descriptions, qualifications, and other information.
3. Resume Management: Job seekers can create and manage their resumes, which can be submitted to potential employers.
4. Notifications: Users can receive email notifications regarding new job listings, job applications, and other important updates.
5. Advanced Filters: The job search feature contains advanced filters that allow users to refine their search results based on specific criteria.
6. User Profiles: Every user has a profile that tracks their job search history, job applications, and other activities.
7. Payment Integration: The script comes integrated with PayPal, making it easy to process payment transactions.
8. SEO-friendly: This script is designed with search engine optimization in mind, so users can easily find your job board website.
9. Customization: Jobs Portal is highly customizable, with several options to choose from for your website design and functionality.
10. Admin Panel: The script includes a powerful admin panel that allows you to manage job listings, users, payments, and more.
Overall, Jobs Portal is a powerful Laravel script that makes it easy to create a job board website. It provides a range of features that will help any entrepreneur build a thriving online business.
[