FOR DEMO WHATSAPP US ON +2348061676089
SEND US A MESSAGE ON FACEBOOK FOR MORE INFO and DEMO
https://facebook.com/websaro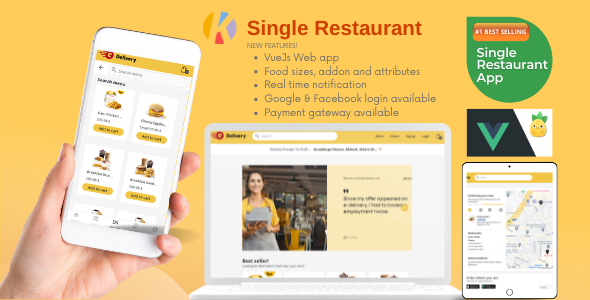 Karenderia Single Restaurant Website Food Ordering and Restaurant Panel is an all-in-one solution for restaurant owners who want to streamline their online ordering process and manage their restaurant operations efficiently. This powerful platform offers a user-friendly interface that makes it easy to manage orders, menus, and customers.
Features:
1. User-Friendly Interface – Karenderia features a user-friendly interface that's easy for both restaurant owners and their customers to use. The intuitive design ensures that ordering food is a seamless process.
2. Complete Online Ordering System – With Karenderia, restaurants can have an online ordering system that's easy to set up and use. Customers can order their meals online, and restaurant owners can manage orders and track deliveries through the platform.
3. Responsive Design – The platform has a responsive design that adapts to any device screen size. This ensures users can access the ordering system from a desktop computer, laptop, tablet, or smartphone.
4. Multiple Payment Gateway Integration – Karenderia supports multiple payment gateway integration with a variety of popular payment processors. This provides a broad range of payment options to customers, including credit card payments and cash on delivery.
5. Intuitive Restaurant Owner Panel – With Karenderia, restaurant owners can easily manage menus, orders, and customers through an intuitive restaurant panel. This makes it easy to track orders, modify menus, and make important decisions about your business.
6. Customizable Menu – Karenderia offers a highly customizable menu, allowing restaurant owners to create menus that suit their needs. They can add their dishes, price, description, and other relevant details.
7. Advanced Restaurant Reporting – Karenderia features advanced reporting that allows restaurant owners to access insights about their business. They can track sales, order trends, and other metrics, helping them make informed decisions to grow their business.
Overall, Karenderia Single Restaurant Website Food Ordering and Restaurant Panel is a powerful all-in-one restaurant solution that enables businesses to streamline their ordering process, and manage their operations more efficiently. With its user-friendly interface, responsive design, and comprehensive features, it's a must-have for any restaurant looking to take their online presence to the next level.
[