FOR DEMO WHATSAPP US ON +2348061676089
SEND US A MESSAGE ON FACEBOOK FOR MORE INFO and DEMO
https://facebook.com/websaro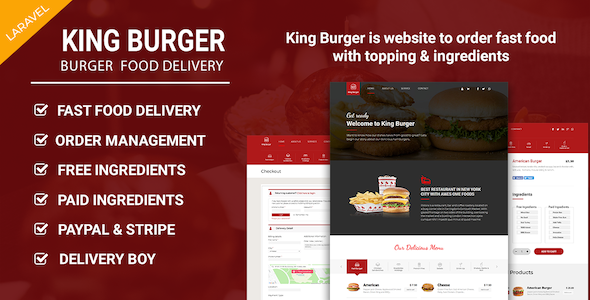 King Burger is a powerful food ordering website built using the Laravel framework. This versatile online restaurant ordering solution lets you create a customized website to cater to your restaurant's business requirements, enhances customer satisfaction, and streamlines operations. With its clean and user-friendly interface, your customers can easily order, pay, and track their orders – all from a single platform.
King Burger comes with advanced features that help you take your restaurant's online presence to the next level. Some of these features include:
1. Intuitive and user-friendly interface: With King Burger, customers can browse and order delicious items from your menu with ease.
2. Advanced search and filter options: The website allows customers to search for menu items by name, category, or ingredient.
3. Real-time order tracking: Customers receive instant notifications on the status of their order, allowing them to stay informed throughout the ordering process.
4. Multiple payment gateway integration: Our solution supports numerous payment methods, which provide convenience and flexibility to your customers.
5. Customizable menus: Easily create and manage menus using our intuitive interface, and even add detailed information on the ingredients used to create each dish.
6. Robust admin panel: The website admin panel allows you to manage orders, track expenses and revenue, and monitor website activity in real-time.
7. Seamless integration with third-party services: King Burger is designed to work seamlessly with third-party services such as Google Maps, Facebook, and Twitter.
In summary, King Burger is the go-to solution for any restaurant looking to enhance their online ordering presence. With its advanced features, user-friendly interface, and superior performance, it is the ultimate restaurant food ordering website. Get started today and take your restaurant's online ordering system to the next level!
[