FOR DEMO WHATSAPP US ON +2348061676089
SEND US A MESSAGE ON FACEBOOK FOR MORE INFO and DEMO
https://facebook.com/websaro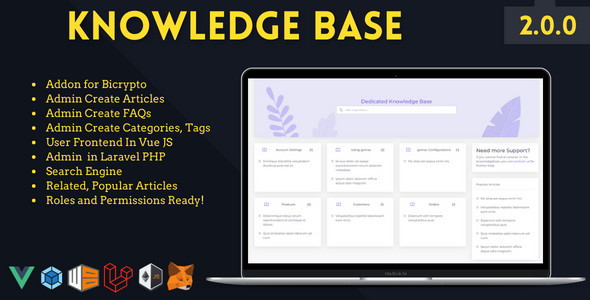 Introducing the Knowledge Base & FAQs addon for Bicrypto! This powerful extension allows you to create an extensive knowledge base and frequently asked questions section directly on your Bicrypto website.
With this addon, you can provide your users with valuable resources that will help them better understand how to use your platform. You can also reduce the number of inquiries and support tickets you receive by providing easy-to-understand answers to commonly asked questions.
The features included in the Knowledge Base & FAQs addon include:
1. Customizable Categories: Create categories and subcategories to organize your knowledge base content according to topics and themes.
2. Rich Text Editor: Use our easy-to-use editor to format your articles with headings, images, links, and more.
3. Search Functionality: Allow users to search through your knowledge base using keywords or phrases.
4. Article Feedback: Enable users to leave feedback on each article to help you improve and enhance your content.
5. Article Tagging: Tag your articles to improve searchability and organization.
6. Multilingual Support: Translate your knowledge base content into multiple languages to better serve a diverse audience.
7. Customizable Design: Customize the design of your knowledge base and FAQs section to match your company brand and website.
Overall, the Knowledge Base & FAQs addon for Bicrypto is an essential tool for anyone looking to improve their platform's user experience and customer support. Buy it today to see how it can help you achieve your business goals!
[