FOR DEMO WHATSAPP US ON +2348061676089
SEND US A MESSAGE ON FACEBOOK FOR MORE INFO and DEMO
https://facebook.com/websaro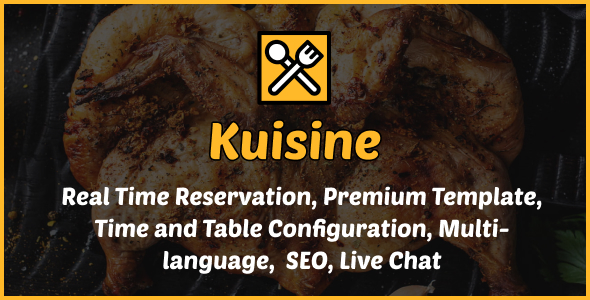 Kuisine – Multi-language Restaurant Booking Platform is a powerful and versatile software solution designed to streamline the process of booking and managing restaurant reservations. With a user-friendly interface and extensive feature set, Kuisine enables restaurateurs to easily manage their reservations, tables, menus, and customers with ease.
Features:
– Multi-language support: Kuisine supports multiple languages, allowing users to easily switch between languages to book their reservations in their preferred language.
– Table management: Kuisine offers intuitive table management capabilities, allowing restaurants to visualize and manage the tables in their establishment with ease.
– Menu management: Kuisine allows restaurants to manage their menus, including creating and editing items, adding photos, and pricing adjustments, ensuring they are always up-to-date and accurate.
– Reservation management: Kuisine allows restaurants to manage reservations from start to finish, including creating, editing, and cancelling reservations, as well as tracking customer information and preferences.
– Email/SMS integration: Kuisine's email and SMS integration features allow restaurants to send personalized and timely notifications to customers, keeping them informed of their reservation status and any changes to their booking.
– Multi-restaurant support: Kuisine can support multiple restaurants with their own separate login credentials and management systems, giving businesses the flexibility to grow while still managing their reservations effectively.
Overall, Kuisine – Multi-language Restaurant Booking Platform is a comprehensive and reliable system that provides restaurateurs with the tools they need to manage their reservations, customers, menus, and tables effectively. With multi-language support and a range of robust features, Kuisine is the perfect solution for any restaurant looking to streamline their reservation management and improve their overall operational efficiency.
[