FOR DEMO WHATSAPP US ON +2348061676089
SEND US A MESSAGE ON FACEBOOK FOR MORE INFO and DEMO
https://facebook.com/websaro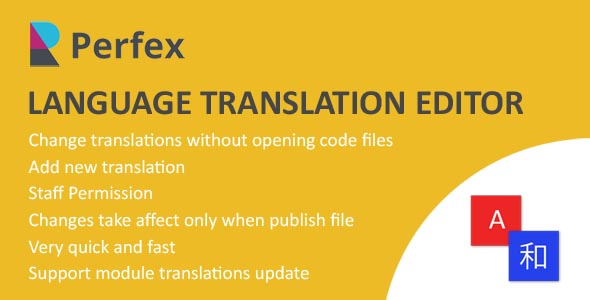 Language Translations for Perfex CRM is a powerful plugin that allows you to translate the Perfex CRM application into any language of your choice. This plugin is perfect for businesses that operate in multiple countries or those that have clients who speak different languages. With this plugin, you can easily translate the entire Perfex CRM interface and create a custom user experience for your clients.
Features:
1. Easy to Install and Use – This plugin is simple to install and configure, allowing you to get started with your language translations quickly.
2. Multiple Languages Supported – Translate the Perfex CRM application into any language, including English, French, Spanish, German, Italian, and more.
3. Fully Customizable – This plugin allows you to customize every aspect of the translations, including the text, labels, and messages.
4. Best Quality Translations – The translations are of the highest quality, ensuring that your message is clear and accurate.
5. Save Time and Money – This plugin saves you time and money by allowing you to translate the entire Perfex CRM interface with just a few clicks of the mouse.
6. Fast and Efficient – The plugin is fast and efficient, allowing you to complete your translations quickly and without any hassles.
7. Technical Support – We offer excellent technical support to help you get the most out of this powerful plugin.
In conclusion, Language Translations for Perfex CRM is the perfect plugin for businesses that need to cater to clients who speak different languages. With its easy installation and wide array of features, this plugin is a must-have for any business looking to expand its reach beyond its current language boundaries. Get your copy today and start translating!
[