FOR DEMO WHATSAPP US ON +2348061676089
SEND US A MESSAGE ON FACEBOOK FOR MORE INFO and DEMO
https://facebook.com/websaro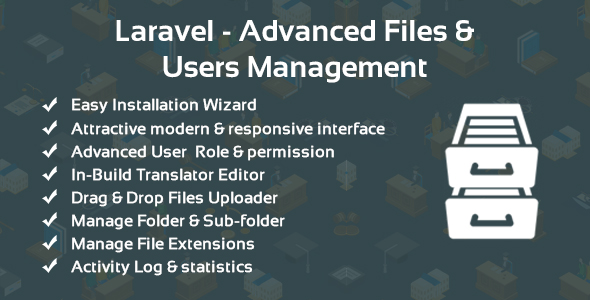 Looking for an advanced and robust solution to manage files and users in Laravel? Look no further than the Laravel – Advanced Files & Users Management!
This powerful package provides everything you need to efficiently manage both files and users in your Laravel application, with an easy-to-use interface and a wide range of customizable features.
Features include:
– User Management: Our package offers a robust user management system, with support for user registration, login, and password reset capabilities.
– Role-Based Access Control: Set user roles and permissions to grant access to files and other features for different groups of users.
– File Management: Manage all your files easily and efficiently, including support for file uploads, downloads, and advanced searching and filtering capabilities.
– Customizable Dashboard: Create customized dashboards for individual users or groups, with support for customizable templates and widgets.
– Automated Job Scheduling: Automatically schedule tasks such as file backups, file conversions, and more.
With the Laravel – Advanced Files & Users Management package, you can streamline your Laravel application and make managing files and users a breeze. Try it out today and take your application to the next level!
[