FOR DEMO WHATSAPP US ON +2348061676089
SEND US A MESSAGE ON FACEBOOK FOR MORE INFO and DEMO
https://facebook.com/websaro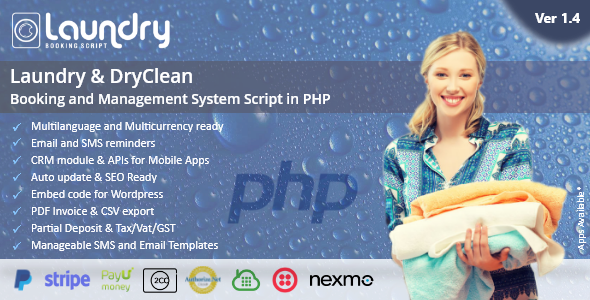 Laundry Booking and Management Script is a robust and user-friendly platform that caters to the needs of laundry service providers. With intuitive features, this script eases the process of managing laundry booking and scheduling, thereby making it an ideal choice for businesses that deal with laundry services.
Features:
1. User Registration: The script comes with a user registration feature that allows customers to sign up on the platform using their email address or social media credentials.
2. Laundry Booking System: The script offers a simple and efficient laundry booking system that enables customers to book services quickly and easily. They can select the service, choose the pick-up and delivery time, and make the payment.
3. Availability Control: The platform allows the businesses to control their availability and set slots for each day, so they don't get overbooked.
4. Payment Integration: The script features a payment gateway integration that allows businesses to accept payments online.
5. Notification System: The platform comes with a dedicated notification system that sends alerts and reminders to customers regarding their bookings.
6. Order Management System: The script has an order management system that helps businesses keep track of their orders, from pickup to delivery.
7. Service Management: The platform allows businesses to manage the services they offer, including the prices and descriptions.
8. Reports: The script comes with a comprehensive report system that shows businesses the number of bookings, payments, among other details.
9. Feedback System: The platform also includes a feedback system that allows customers to rate and review the services they receive, which businesses can use to improve their offerings.
In conclusion, this Laundry Booking and Management Script is an all-in-one solution for laundry businesses that want to streamline their operations and enhance customer experience.
[