FOR DEMO WHATSAPP US ON +2348061676089
SEND US A MESSAGE ON FACEBOOK FOR MORE INFO and DEMO
https://facebook.com/websaro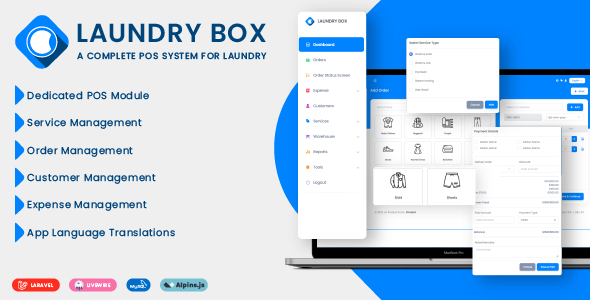 Laundry Box POS and Order Management System is a comprehensive solution for laundry and dry-cleaning businesses looking to optimize and streamline their operations. This powerful software provides an efficient way to manage all aspects of the business, from order intake to final delivery, and everything in between.
Key Features:
– Easy Order Management: The Laundry Box POS system allows easy and efficient order management. It lets customers submit orders online, pick up and delivery information can also be added, which makes the entire process much smoother.
– Seamlessly Manage Customers: This software stores customers' records and history that bring out the best in your customer service. It also allows for efficient and effective communication with customers for convenience.
– Customizable Pricing: You can set pricing for your services, including pricing based on the type of garment, the type of service, the weight of the laundry, etc.
– Barcode Scanning: This system supports barcode scanning, making it easier to manage large volumes of clothing items. The laundry staff can scan each garment, which ensures that they are not mixed up, and they track their location during the processing time.
– Schedule Pickup and Delivery: The Laundry Box POS system allows for easy scheduling of pickup and delivery, which means your customers would not have to be physically present on your premises, reducing waiting time.
– Simplified Payment Processing: The system allows for various payment methods such as credit card payments, debit cards, cash payment, etc.
– Reports Generation: Accurate and timely reports can be generated, which helps in the performance analysis of the business. It also offers detailed and comprehensive sales analysis and inventory management reports.
Laundry Box POS and Order Management System is a versatile solution that can help streamline your laundry and dry-cleaning business. By using advanced software, businesses can now offer better services and improve the overall customer experience. Get started with Laundry Box today and take your business to the next level.
[