FOR DEMO WHATSAPP US ON +2348061676089
SEND US A MESSAGE ON FACEBOOK FOR MORE INFO and DEMO
https://facebook.com/websaro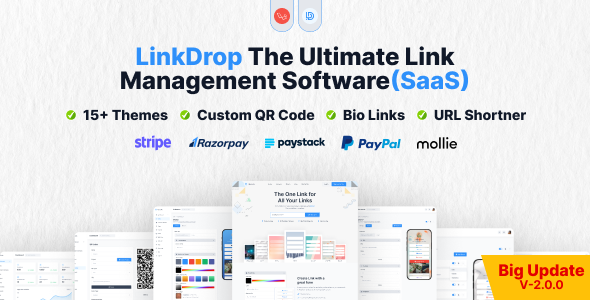 Linkdrop is an all-in-one link management platform that allows you to create, track, and manage all your links in one centralized location. With this powerful SaaS tool, you can easily optimize your link strategy, gain insights into your link performance, and boost your online presence.
Whether you're a marketer, blogger, or business owner, Linkdrop offers an array of features to help you streamline your link management process. Here are some of the key features you can expect:
Intuitive Link Creation:
Linkdrop provides a simple and intuitive interface that allows you to create and customize unique, branded links in an instant. The user-friendly dashboard makes it easy to organize and categorize links for quick reference.
Link Tracking:
Gain crucial insights into your link performance with the ability to track clicks, conversions, and other key metrics. Track link interactions across all devices and view detailed breakdowns of where links are being clicked from.
Link Retargeting:
Retarget users who have interacted with your links but have not yet converted with a customized retargeting campaign.
Secure Short URLs:
Linkdrop employs the latest in SSL security to protect short URLs from malicious activity.
Multiple User Accounts:
Collaborate with team members and assign permissions for read-only, link editing or the creation of new links.
Real-Time Analytics:
Get real-time insights into your click-through rates, conversion rates, and other crucial metrics. Use this data to optimize your link strategy and get the most out of your campaigns.
Automatic Link Optimization:
Linkdrop continuously optimizes links based on factors such as geographic location, device type, and time of day to ensure optimal performance.
Integrated Social Media Sharing:
Share your customized links across social media platforms such as Facebook, Instagram Twitter etc.
Linkdrop is the ultimate link management tool that helps you streamline and optimize your link performance. With a powerful set of features and an intuitive interface, it's the perfect solution for businesses or individuals looking to improve their online presence. Get started today and take control of your links with Linkdrop.
[