FOR DEMO WHATSAPP US ON +2348061676089
SEND US A MESSAGE ON FACEBOOK FOR MORE INFO and DEMO
https://facebook.com/websaro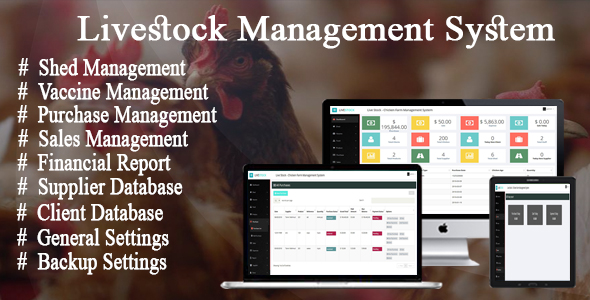 Livestock Management System is an all-in-one software solution for managing your livestock farming operations easily and efficiently. With this software, you can easily track and manage all aspects of your livestock farming business, including animal records, breeding, feeding, health, and more.
Some of the key features of Livestock Management System include:
1. Animal Record Management: Easily manage all your animal records, including breed, birthdate, gender, weight, health records, and more. Keep track of all critical information about your livestock in one place.
2. Breeding Management: Manage your breeding program easily with the Livestock Management System. Track breeding dates, insemination records, and pregnancy status of your animals.
3. Feeding Management: Keep track of your livestock's feeding schedule, including feed types, amounts, and feed costs. This feature helps you manage feed costs and ensure optimal nutrition for your animals.
4. Health Management: Track the health status of your animals, manage vaccinations, and keep a record of all veterinary visits. The software will alert you when it's time for your animal's next vaccination.
5. Financial Management: Easily manage your farm's finances with Livestock Management System. Track income and expenses, and generate reports to analyze your farm's profitability.
6. User Management: Assign different roles and permissions to different users, ensuring that only authorized personnel can access sensitive information.
7. Dashboard: View all your critical information in one place using the software's user-friendly dashboard. Get an overview of your farm's performance and key metrics at a glance.
Overall, Livestock Management System is a comprehensive, easy-to-use software solution designed to help streamline your livestock farming operations. Try it today and see the difference it makes in your farm's productivity.
[