FOR DEMO WHATSAPP US ON +2348061676089
SEND US A MESSAGE ON FACEBOOK FOR MORE INFO and DEMO
https://facebook.com/websaro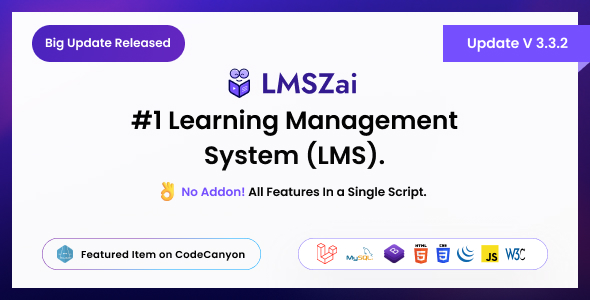 LMSZAI is a powerful Learning Management System (LMS) designed to cater to the needs of education-based institutions, schools, and businesses. It offers everything you need to create a powerful e-learning platform including course creation tools, student management, and online course grading.
LMSZAI provides a range of features to ensure comprehensive and efficient learning management. Here are some of the key features that make LMSZAI stand out:
1. User Friendly Interface: The user-friendly interface provides a hassle-free learning experience and allows you to access your course material quickly and easily.
2. Course Creation: With LMSZAI, you can easily create courses with multimedia content such as videos, images, quizzes, and documents. It offers a range of tools to create interactive course content to keep your learners engaged.
3. Student Management: LMSZAI's student management system allows you to easily manage your student's performance, progress, attendance, and other important aspects of learning.
4. Assessment and Grading: LMSZAI provides a range of testing and assessment tools for effective student evaluation. You can easily track and grade the online tests and quizzes.
5. Gamification: It includes gamification tools such as badges, scoring, and leaderboards to encourage learners and make learning more interactive.
6. Online Payment: LMSZAI provides a payment gateway option that allows you to accept online payments from students for subscription and other fees.
7. Responsive Design: The responsive design of LMSZAI makes it easy for users to access and navigate the platform from any device.
8. Security: LMSZAI comes packed with advanced security features that ensure the security and privacy of the students and their data.
In summary, LMSZAI is a robust, comprehensive, and easy-to-use Learning Management System that caters to the needs of businesses and education-based institutions. With its advanced features, it provides a hassle-free e-learning experience and makes it easy to manage courses, students, and assessments.
[