FOR DEMO WHATSAPP US ON +2348061676089
SEND US A MESSAGE ON FACEBOOK FOR MORE INFO and DEMO
https://facebook.com/websaro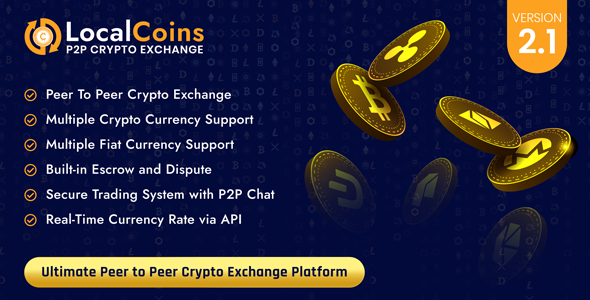 LocalCoins is the ultimate peer to peer cryptocurrency exchange platform that offers a secure and straightforward way for individuals and businesses to buy, sell and trade digital assets. Developed using the latest web technologies and designed with user experience in mind, this solution is ideal for anyone looking to launch a cryptocurrency exchange or expand their existing services.
Here are some of the key features of LocalCoins:
1. Local Sell and Buy: LocalCoins enables the buying and selling of cryptocurrencies within a particular country using local currency. This feature allows sellers and buyers to meet in person to exchange their assets instantly and safely.
2. Automated Escrow: LocalCoins provides a built-in Escrow system that holds the cryptocurrency from the seller until the buyer has confirmed the payment. This mechanism ensures that everyone involved in the transaction is protected and that the trade is conducted smoothly.
3. Encryption and Security: LocalCoins understands the importance of security when it comes to cryptocurrency transactions. Therefore, it uses robust encryption methods and secure payment gateways to ensure that all transactions are safe and reliable.
4. Multi-Currency Support: LocalCoins supports a wide range of cryptocurrencies, including Bitcoin, Ethereum, Litecoin, Ripple, BCH, and many more. This feature enables users to transact in their preferred digital currency quickly and efficiently.
5. Intuitive Admin Panel: The platform comes with an easy-to-use admin panel that allows you to manage users, transactions, and settings with just a few clicks. You can monitor the platform's performance, track revenue, process withdrawals, and more.
6. Dashboard for Users: LocalCoins offers a comprehensive dashboard for users to manage their transactions, view their balance, check their transaction history, and other useful information.
7. KYC and AML Compliance: The platform is designed to comply with Know Your Customer (KYC) and Anti-Money Laundering (AML) regulations. All users must go through a verification process before participating in any transaction on the platform.
LocalCoins is a comprehensive solution for anyone looking to launch a cryptocurrency exchange platform. With its robust features, flexibility, and ease of use, this platform is sure to help drive your business forward. Try LocalCoins today and experience the ultimate peer-to-peer crypto exchange solution.
[