FOR DEMO WHATSAPP US ON +2348061676089
SEND US A MESSAGE ON FACEBOOK FOR MORE INFO and DEMO
https://facebook.com/websaro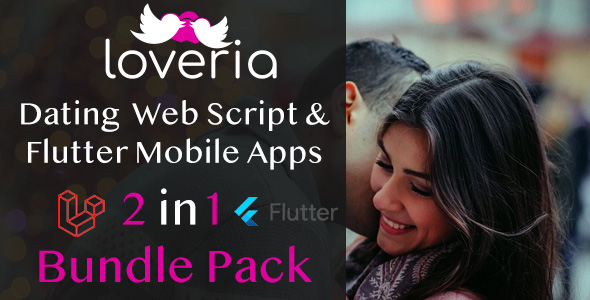 Looking to start your own dating app? Look no further than Loveria, the ultimate dating bundle pack. With this Laravel PHP Dating Script and Flutter Mobile Apps for Android and iOS, you can create a custom dating experience for your audience.
The Laravel PHP Dating Script is a powerful tool that allows you to create a fully functional dating website, including user profiles, messaging, and search features. The script comes with a range of customizable templates, making it easy to create a website that reflects your brand, and allows for easy integration with other third-party tools.
To complete the package, we're including our Flutter Mobile Apps for Android and iOS, allowing your audience to access your dating site on the go. The apps are fully customizable, and come with a range of features that will keep your users engaged and coming back for more.
Some of the key features of this bundle pack include:
– User Profiles: Allowing users to create, customize, and manage their own profiles.
– Messaging: A robust messaging system that allows users to communicate with one another through your app.
– Search: Powerful search features that allow users to find matches based on their preferences.
– Customizable Templates: Easy to use templates make it simple to add your own branding and customize the design of your app.
– Dart and Laravel Support: Built using Dart and Laravel, making it easy to modify and expand your app to meet the needs of your audience.
– Google Maps Integration: Allows for easy integration with Google Maps, making it simple to display location-specific data for your users.
Overall, the Loveria Dating Bundle Pack is a comprehensive solution that will give you everything you need to start a successful dating app. With a range of customizable features and top-of-the-line support, there's no better way to get started in the world of online dating.
[