FOR DEMO WHATSAPP US ON +2348061676089
SEND US A MESSAGE ON FACEBOOK FOR MORE INFO and DEMO
https://facebook.com/websaro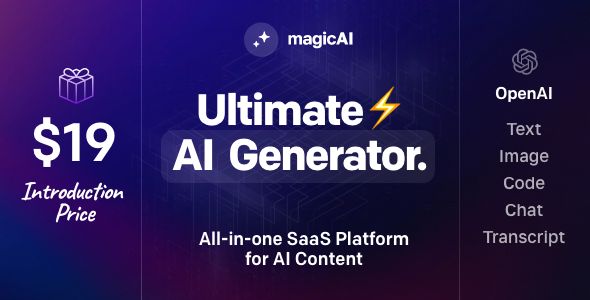 Are you tired of spending countless hours creating content for your website or social media platform? Look no further than MagicAI – the revolutionary open AI content, text, image, chat, code generator.
With MagicAI, you can easily generate high-quality and engaging content with just a few clicks of a button. Our platform utilizes the power of OpenAI technology to deliver top-notch content, making it the perfect SaaS solution for bloggers, content marketers, and business owners.
Features:
1. OpenAI Integration – Our platform utilizes OpenAI technology to generate content that is natural, fluent, and engaging.
2. Text Generation – Generate text for articles, blog posts, and social media posts.
3. Image Generation – We use AI to create custom images and graphics for your content.
4. Chat Generation – Create human-like chatbots that can answer customer inquiries and support requests.
5. Code Generation – Get custom code snippets for your website or web applications.
6. Customization – You can troubleshoot to get the output that you want.
7. Affordable Pricing – Enjoy our affordable subscription pricing that suits your budget!
Experience the magic of AI with MagicAI and streamline your content creation process today.
[