FOR DEMO WHATSAPP US ON +2348061676089
SEND US A MESSAGE ON FACEBOOK FOR MORE INFO and DEMO
https://facebook.com/websaro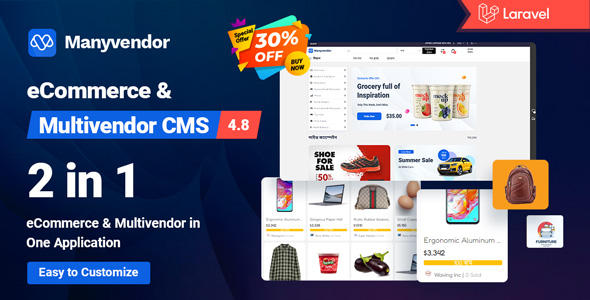 Manyvendor is a robust and feature-packed eCommerce and multivendor CMS that enables you to create a powerful online marketplace platform. Whether you want to launch a marketplace for digital products or physical goods, this CMS is the perfect choice to help you get started.
With Manyvendor, you can create an entirely custom online marketplace from scratch, or you can use the pre-built templates and modules to speed up the development process. The CMS is designed with flexibility in mind, and it provides you with a wide range of customization options and features to help bring your vision to life.
Key Features:
1. Multivendor Marketplace: The CMS allows you to create a multivendor marketplace where users can register as sellers and start selling their products. You can set commissions, payment methods and shipping rules for each seller.
2. Multiple Payment Options: The system has over 30 payment methods, including popular options such as Paypal, Stripe, and PayuMoney.
3. Advanced Search and Filters: The CMS provides users with an advanced search and filter system, enabling them to easily find products and vendors based on their preferences.
4. Product Reviews and Ratings: The system allows buyers to leave reviews and ratings for products, which can help sellers build their reputation and increase sales.
5. Customizable Product Pages: The CMS features customizable product pages that enable sellers to provide detailed product information to potential buyers.
6. Inventory Management: The CMS has an inventory management system that allows sellers to keep track of their products and make updates in real time.
7. Responsive Design: The CMS is fully responsive and optimized for desktops, laptops, tablets, and mobile devices.
8. SEO Friendly: The platform is designed with SEO best practices in mind, which can help you improve your website's search engine rankings.
9. Social Sign-In: Manyvendor offers social sign-in options for users, including Facebook, Twitter, and Google+.
10. Admin Panel: The system comes with a powerful and easy-to-use admin panel that provides you with the tools you need to manage your marketplace effectively.
With Manyvendor, you can create a powerful and fully-functional online marketplace in no time. The CMS has everything you need to launch and grow your marketplace with ease and efficiency.
[